Nov 1, 2011
Roasted brussels sprouts with sherry-mustard vinaigrette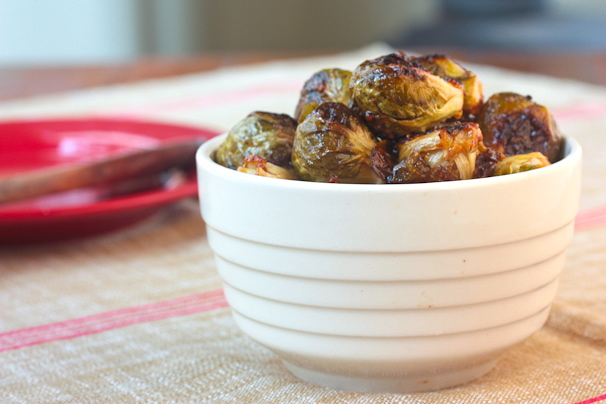 I usually make my Brussels sprouts with a maple-mustard sauce, but I was inspired by this recipe from Leafy Greens and Me. The sherry-mustard vinaigrette, which I've adapted, makes for a sophisticated take on Brussels sprouts. Slightly sweet, but with the distinctive tang of mustard and the depth of sherry vinegar. Delicious!
There are so many reasons why I think Brussels sprouts are the perfect Thanksgiving vegetable. Of course, they're incredibly good for you. Not only are they very high in vitamin C and folic acid, they contain glucosinolates, powerful detoxifying compounds that may have cancer prevention benefits.
But from a Thanksgiving cook's perspective, Brussels sprouts are great because they can be made ahead of time and are delicious served at room temperature – especially when coated with a vinaigrette. Having side dishes done ahead of time is the secret to a stress-free Thanksgiving.
Now, I know there are sprout haters out there – but I hope you'll give them another shot with this recipe. Roasting brings out the sprouts' sweetness, and this sauce is irresistible.
Cathy's Confession: The photo above is not of these particular Brussels sprouts. It's an outtake from last year's Roasted Brussels Sprouts with Maple-Mustard Glaze. I tried photographing today's recipe but, well…it was a bust. They looked exactly like the ones in this image, I swear!

Print
Roasted Brussels Sprouts with Sherry-Mustard Vinaigrette

2 pounds Brussels sprouts, trimmed
4 tablespoons extra virgin olive oil, divided
2 tablespoons finely minced shallot
2-3 cloves garlic, minced
1/2 cup aged sherry vinegar
1 teaspoon fresh thyme
1 tablespoon Dijon mustard
1 tablespoon coarse-ground Dijon mustard
2 tablespoons agave nectar
Freshly ground black pepper to taste
Heat the oven to 400 degrees.
Heat 1 tablespoon of the olive oil in a small skillet or saucepan. Add shallot and garlic and stir for 30 seconds.
Stir in vinegar, thyme, mustard and agave. Simmer on medium heat until reduced by about half (about 4 minutes).
Remove from heat and whisk in 2 tablespoons of olive oil. Season with pepper. Pour the dressing into a serving bowl.
Toss the brussels sprouts with the  remaining tablespoon of olive oil and place on a large baking sheet. Roast the brussels sprouts until very dark and just tender, about 40 minutes.
Toss with the vinaigrette and serve warm or at room temperature.
Serves 6