Nov 14, 2010
Roasted brussels sprouts with maple-mustard glaze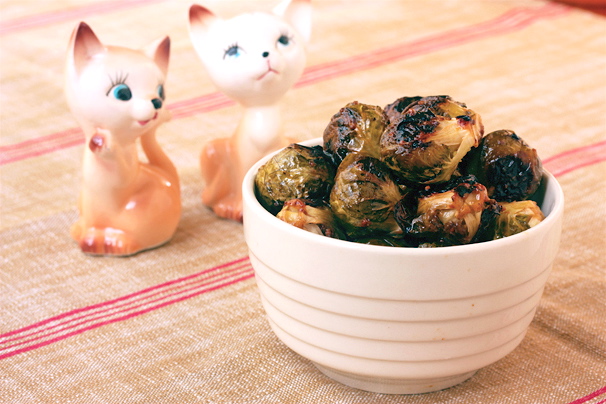 One of my favorite recipes for Thanksgiving has always been Brussels sprouts with maple-mustard sauce, from the now out-of-print Thanksgiving Dinner by Anthony Dias Blue. However, that recipe called for boiling the Brussels sprouts and marinating them in a lot of sauce.  This year I wanted to try roasting them and using the sauce as more of a glaze. The result?  Pure sprout perfection.
These Brussels sprouts are only a tad sweet, since the mustard and lemon juice balance out the maple syrup. In fact, the mustardyness (I know, that's not a word, but I'm using it anyway) helps this dish cut through the sweetness and richness of the traditional holiday meal. Another thing I love about this dish is that it's great served at room temperature, so you can cook it a few hours ahead and cut down on your Thanksgiving panic attacks! I'm not the only one who has those, right?
And if you're a Brussels Sprout hater, scroll down for more healthy Thanksgiving vegetable ideas.
Roasted Brussels Sprouts with Maple-Mustard Glaze
2 pounds Brussels sprouts, trimmed
1½ tablespoons lemon juice
1 ½ tablespoons Dijon mustard (use a gluten free mustard if you prefer)
1½ tablespoons coarse-ground mustard (use a gluten free mustard if you prefer)
1½ tablespoons maple syrup
3 tablespoons olive oil
Salt and pepper to taste.
Heat the oven to 400 degrees.
In a large bowl, whisk the lemon juice, mustards and maple syrup, and add salt and pepper to taste. Gradually whisk in the olive oil.  Add the Brussels sprouts and stir to coat.
Remove with a spoon and place on a large baking sheet, reserving extra sauce from the bottom of the bowl.  Roast until very dark and just tender, about 40 minutes. Toss with remaining sauce and serve hot or at room temperature.
Serves 6
Other Cathy-approved Thanksgiving vegetable recipes you might want to try:
Healthy Green Bean Casserole with Pumpkin Seed Crumble. A lighter take on the traditional green bean casserole (except I'd substitute lowfat milk here)
Spinach with lemon and currants from Sunset magazine. Interesting in that it includes minced lemons – I've never seen that before.
Roasted Root Vegetables with Chestnuts and Quince. I was surprised to see this in Redbook magazine, of all places. The combination of beets, quince, chestnuts and other vegetables is unusual and intriguing.