Jan 23, 2011
Strawberry banana almond smoothie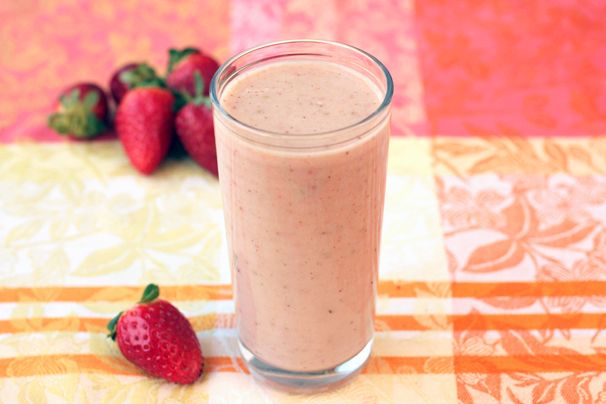 This strawberry banana almond smoothie is my attempt at cutting down on my morning bread habit (mmm…toast.)
Some smoothie recipes call for added sugar, maple syrup, apple juice or sugary-sweet vanilla yogurt, and in my book that almost turns a smoothie into dessert. (This recipe from Food & Wine includes 3/4 cup of maple syrup and has 60 grams of carbs per serving!) I wanted to create one that was lower in sugar and calories, so I used unsweetened vanilla almond milk as a base, and added no additional sweetener. I was worried that the result would be too un-sweet to be appealing, but it's actually perfect. The natural sweetness of the fruit is quite enough, and the addition of almond butter provides a hint of complexity. You won't feel like you drank a milkshake after drinking it, you'll just feel virtuous and refreshed. Not a bad way to start the day.
For you DIY types, why not use this recipe as an excuse to make your own almond milk?  My friend Don made his own a while back, and said it's easy and delicious, so it's definitely on my must-do list. Homemade almond milk is far less expensive, and there's no wasteful packaging – so what are we all waiting for? Plus you can make vegan almond cheese with the leftover almond meal!  
Substitutions and variations: I like almond milk, but the downside is that it doesn't contain much protein. The almond butter does add some, but to really boost the protein content of this smoothie, you can substitute soy milk, or a mixture of plain nonfat yogurt and milk, for the almond milk. For some Omega-3 action, add a teaspoon or two of flax oil. A little vanilla extract is a nice addition, too.
Strawberry Banana Almond Smoothie
1 1/2 cups chilled unsweetened vanilla almond milk, plus more if needed
1 heaping cup of chopped strawberries
1 1/2 medium bananas
1 tablespoon almond butter
Puree in a blender. If the smoothie is too thick, add additional almond milk as desired.
Serves 2