Jul 26, 2010
Vegetarian Boston Baked Beans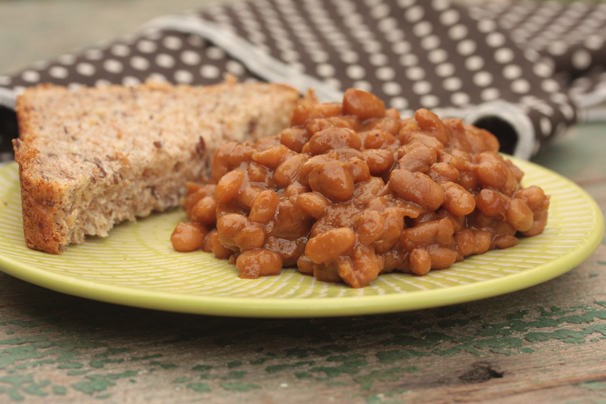 I find that people tend to be amazed that I make baked beans from scratch. Maybe they find the 5+ hours of baking time intimidating. But have no fear – baked beans are actually super easy to make.
However, they do require one big decision up front: whether to include ketchup or any other tomato products.  Anyone  from New England will be solidly in the no-tomato camp.  In other parts of the country, you not only find ketchup in baked beans, but cinnamon, apple juice, soy sauce and kinds of other crazy stuff. Me, I'm from upstate New York – that's not quite New England, but today I'm siding with the Bostonians. My recipe is traditional in its tomatoless-ness, though nontraditional in its meatless-ness.  I used smoked paprika – my secret weapon – and a bit of olive oil as a stand-in for bacon or salt pork. I think the result is good enough to satisfy your friendly neighborhood meat eater – and I don't think anyone will really miss the ketchup.
This recipe makes a huge batch of beans, but you will be very happy to have a lot of leftovers. In fact, if you're anything like my father, you might find yourself eating them cold for breakfast, along with some eggs and toast.
Vegetarian Boston Baked Beans
2 pounds dried navy beans
1 tablespoon dry mustard
2/3 cup molasses – I used blackstrap, but you can sub. "full"/"robust" for a slightly sweeter flavor
1/2 cup packed brown sugar
3 cloves garlic, minced
1 tablespoon Spanish smoked paprika
1/4 cup cider vinegar (use gluten-free vinegar if you prefer)
1 tablespoon Worcestershire sauce (can substitute vegan version)
2 tablespoon extra virgin olive oil
2 teaspoons salt
1/2 teaspoon freshly ground black pepper
Pinch cloves
2 large onions, sliced
2 bay leaves
Soak the beans overnight, or use the quick soak method (bring the beans to a boil in a pot of water, boil 2 minutes, cover and remove from heat for 1 hour. Drain.)
Place the soaked beans in a large saucepan and cover with water by 2 inches. Bring to a boil, reduce heat and simmer until nearly tender, about 30 minutes to 1 hour depending on your beans. (If your beans are still rock hard after an hour, discard them – they are probably too old and may never soften, or will do so at the expense of your patience.)  Drain the beans, reserving the cooking water.
Heat the oven to 300 degrees.
In a large bowl, combine the mustard, molasses, brown sugar, garlic, paprika, vinegar, Worcestershire sauce, cloves, olive oil, salt and pepper. Put a third of the cooked beans in a large covered bean pot or dutch oven, and cover with half the onions. Repeat, then top with the final third of the beans. Tuck the bay leaves into the pot. Pour on the sauce, then add bean cooking liquid to cover generously (about 6 cups; if you don't have enough bean cooking liquid, add water.)
Cover and bake for 4 hours, checking occasionally to make sure the beans aren't getting extremely dried out – add hot water if they are. After 4 hours, taste and add additional salt if you feel it's needed, and bake  uncovered for an additional 45 minutes to one hour, until sauce is thickened and beans develop a bit of a crust on top.  (Note that beans will thicken significantly as they cool.) Remove bay leaves and serve, or serve later at room temperature or cold right from the refrigerator.
Serves 16-20