Aug 8, 2011
Roasted corn and potato chowder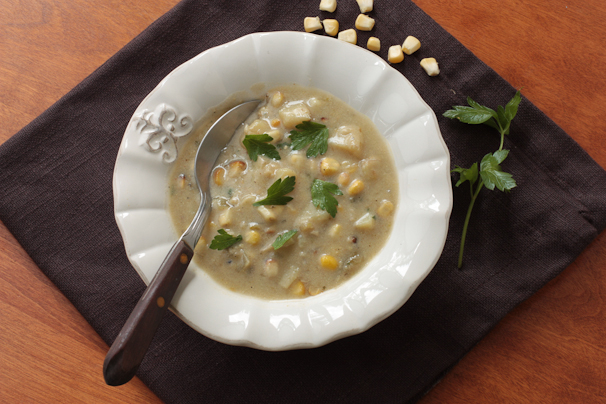 I was never a big fan of cream-based soups, but corn chowder was an exception. So sweet, so creamy, so dreamy….it's one of the things I've missed since having to change my diet. So I was excited to find this recipe for Roasted Corn and Potato Chowder from the blog Leafy Greens and Me. Instead of cream, it calls for rice milk (I used almond milk, my non-dairy milk of choice.)
When I told my dinner guest – let's just call her The Ultimate Dairy Fanatic – about the almond milk, she was skeptical. And when I told the Ultimate Meat Lover (same person, she has two names) that there was no bacon, she was visibly shaken. But I was determined to make her a convert to this vegan soup. I roasted the corn until it was toasty, and added a pinch of smoked paprika to the recipe. Then I pureed a portion of the soup at the end for a thick and rich texture. And guess what? She wolfed it down nearly as fast as I did!
I urge you to make this soup now, during prime corn season. The better your corn, the better it will be.
Recipe notes: If you'd like, you can grill the corn instead of roasting in the oven. For a nice Southwestern-style variation, add several minced tomatillos and 1/4 cup chopped roasted poblano peppers when you start to simmer the soup, and replace the parsley and lemon juice with cilantro and lime juice at the end.
Roasted Corn and Potato Chowder
Adapted from Leafy Greens and Me
4 large ears corn on the cob, shucked and silk removed
2 tablespoons extra virgin olive oil
5 cloves garlic, minced
1 serrano or jalapeño pepper, minced
1 medium red onion, minced
1 1/4 cups diced celery
1 tablespoon non-hydrogenated margarine, such and Earth Balance or Smart Balance
2 1/2 tablespoons flour (all purpose or white whole wheat)
1 3/4 pound Yukon gold potatoes, diced small
4 cups chicken-style vegetable broth
4 cups unsweetened almond milk
1 tablespoon vegan Worcestershire sauce (or regular if you're not vegan)
3 tablespoons dry sherry
1 bay leaf
2 teaspoons fresh chopped thyme leaves
1 teaspoon salt, more to taste
Black pepper to taste
Pinch smoked paprika (or substitute regular paprika)
4-5 dashes of Tabasco sauce
1/4 cup flat-leaf parsley, minced
2 teaspoons lemon juice
If broiling the corn, heat the broiler to high. Place the corn on a baking sheet and broil, turning as necessary, until lightly charred on all sides. If grilling, grill the corn until lightly charred. Cut the kernels from the cobs and set aside.
Heat the oil over medium heat in a large heavy pot. Add the onion, garlic, hot pepper and celery, and sauté for about 10 minutes, until the vegetables are soft. Add the Earth Balance and stir until melted. Add the flour and cook, stirring, for 2-3 minutes.
Add the roasted corn, potatoes, stock, almond milk, Worcestershire sauce, sherry, bay leaf, thyme, salt, pepper, paprika and Tabasco. Bring to a boil, then reduce heat and simmer until the potatoes are tender, about 20-30 minutes. Adjust salt to taste. Remove about 1 1/2 cups of the soup and puree in a food processor or blender. Stir the puree back into the pot. Add the parsley and lemon juice and serve, adding freshly ground black pepper to each bowl.
Serves 6
By the way, I added this recipe as a "House Favorite" on Chez Cayenne. The August roundup of House Favorites should show up in early September, so keep your eyes peeled.
This soup deserves to be Tweeted and Liked! Luckily, there are buttons for that.