Feb 24, 2016
Almond hazelnut encrusted tempeh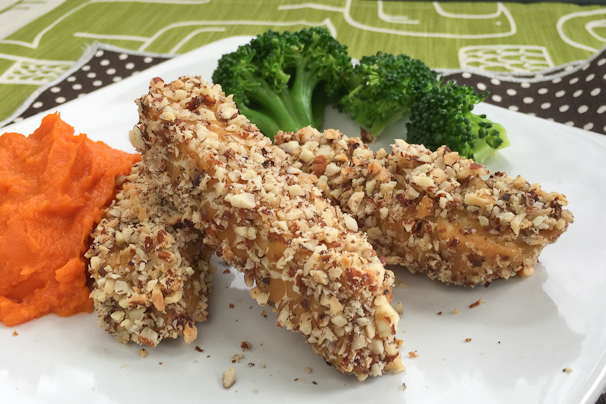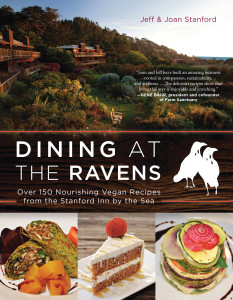 Today I bring you a great recipe from a brand new cookbook called Dining at the Ravens. If you aren't familiar with The Ravens, it's the restaurant at Stanford Inn by the Sea, a vegan resort in Mendocino, CA. Dining at the Ravens is doing a "blog tour" and I'm happy to be today's stop. See below for your chance to win a copy of the book, compliments of the publisher, BenBella Vegan!
The nut-encrusted tempeh is simple to make, and truly delicious. It calls out for a sauce, and while I first thought of gravy or a fancy chutney of some kind, I found that mustard or ketchup – especially this great new ketchup I discovered – is perfect. The recipe gives an option to pan-fry instead of bake the tempeh, but I'd stick with baking to cut down on oil and make sure the nuts stay in place.
I'm looking forward to trying more of the recipes. Tops on my hit list:
– Chilaquiles
– Indian Spiced Kale and Potato Omelet
– Black Eyed Pea Cakes
– Cauliflower Ceviche
– Moussaka
– Peach Huckleberry Cobbler
These being restaurant-style vegan recipes, there is a heavy reliance on nuts (cashew sauces abound), making many of the dishes delicious but fairly calorie-heavy. Some of the ingredients are California-centric (I don't think I'm going to be cooking a lot of sea palm, and I've never seen candy cap mushrooms on the East coast.) But for the most part, everything is accessible for the home cook. I was surprised that almost all of the breads and baked goods call for white flour rather than whole grain flours.
Nitpicks aside, this is a great cookbook to have around when you're planning a fancy vegan dinner party. Whip up a Vegetable Napolean or Chanterelle and Fall Vegetable Stuffed Portobello, followed by Pecan Torte, and your guests will be talking about your mad vegan cooking skills for weeks to come.
Want your very own copy of Dining at the Ravens? Here's your chance:

Print
Almond and Hazelnut Encrusted Tempeh
from
Dining at the Ravens
, reprinted with permission
For the marinated tempeh:
1 tablespoon sliced ginger
2 cloves garlic, sliced
3 cups water
1/4 cup gluten-free tamari
1 package tempeh, sliced 1/2-inch thick on the bias
For the flax "egg wash":
2 tablespoons ground flaxseeds
1/2 cup warm water
For the almond and hazelnut crust assembly:
1/2 cup raw almonds
1/2 cup raw hazelnuts
1/4 teaspoon salt
Freshly ground black pepper
Spray oil (if baking) or 2 tablespoons olive oil (if pan-frying)
For the Marinated Tempeh:
1. Combine the ginger, garlic, water and tamari in a saucepan and add the sliced tempeh. Cook until tempeh has heated through, about 10-15 minutes.
2. Drain tempeh from the cooking liquid, set aside and let cool.
For the Flax "Egg" Wash:
1. In large mixing bowl, combine flaxseeds and warm water and whisk until thicken. More water may be added as necessary; mixture should resemble thick pancake batter. (Note from Cathy: heating the mixture in the microwave for 45 seconds then letting it sit for 15 minutes helps it thicken.)
For the Almond Hazelnut Crust and Assembly:
1. In food processor, combine almonds and hazelnuts and process until coarse, sand-like consistency is achieved (note: you want little chunks of nuts, like you see in my photo.)
2. Add salt and pepper and process for a moment longer until well incorporated.
3. Place in a small mixing bowl and set aside.
4. Preheat the oven to 350 degrees.
5. Dip each slice of tempeh into the flax wash and immediately dredge in the almond and hazelnut mixture until the tempeh is well coated.
6. Spray a large baking sheet with cooking spray, then set tempeh slices on it.
7. Bake for 20-30 minutes, until golden brown and crisp.
8. Alternatively, place 2 tablespoons olive oil in a saute pan, or oil a griddle and heat to medium heat. Place each piece of tempeh on the pan or griddle and cook until golden brown on each side (5-7 minutes per side.)