Feb 1, 2016
Baked falafel with berbere spice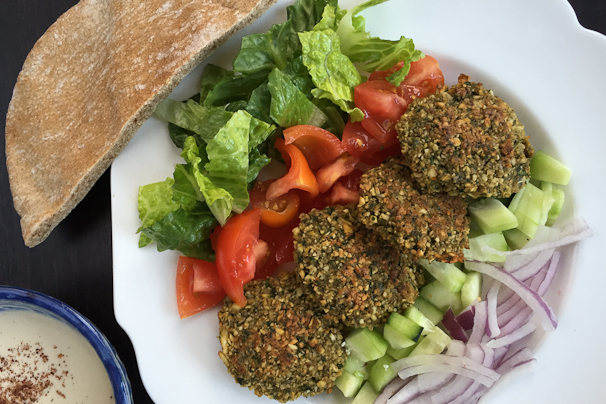 The first time I made homemade falafel, just last year, I couldn't believe how easy it was. I kicked myself for not trying it sooner – I missed out on years of falafel-eating happiness!
I started with Mark Bittman's simple baked falafel recipe. Other than reducing the amount of olive oil used in the baking (just wasn't necessary), my only big departure was the spicing; rather than cumin and cayenne only, I used berbere, an Ethiopian spice blend containing chiles, fenugreek, ginger and much more. I also included ground coriander and cardamom. As complex as it sounds, the spicing isn't overwhelming at at all – the berbere adds a subtle but delicious layer of flavor. You can order it from EthiopianSpices.com, but I've also seen Frontier brand berbere at Whole Foods.
The great thing about making your own falafel is that you can eat it leftover for days (that's why I've increased the quantity from the original recipe). You can also freeze the cooked falafel; it's a handy gluten-free and vegan staple to have on hand. Recommended accompaniments include romaine lettuce, tomatoes, cucumbers, red onion, tahini sauce (just thin tahini with water and add a bit of lemon) and hot sauce of some kind. Pickles or even beets would nice additions, too. Eat your baked falafel in a salad, as a sandwich in pita bread, or just plain as a healthy snack.
One last note: falafel is made with raw, soaked chickpeas, and that is essential to the texture. Don't attempt to make it with canned chickpeas. As long as you have a full-size food processor, it's super easy to make – just throw it all in and give it a few pulses. Like me, you'll be wondering why in the world you never made it before.

Print
Baked Falafel with Berbere Spice
Adapted from Mark Bittman's
recipe
1 pound dried chickpeas
4 garlic cloves, roughly chopped
1 large onion, cut into 8 pieces
2 tablespoons berbere (or substitute 1 1/2 tablespoons cumin and 2 teaspoons cayenne)
1/2 teaspoon ground coriander
1/4 teaspoon ground cardamom (optional)
1 bunch flat-leaf parsley, large stems removed
1 bunch cilantro, large stems removed
1½ teaspoons salt (fine salt is best here)
1 teaspoon black pepper
3/4 teaspoon baking soda
1 tablespoon fresh lemon juice
2 tablespoons olive oil
Soak the chickpeas in a large bowl of water for 12-24 hours. Drain.
Heat the oven to 375 degrees. Grease a large rimmed metal baking sheet with a couple teaspoons of the olive oil (I do not recommend a nonstick baking sheet – the falafel won't brown the same way.)
Put half the chickpeas and half the remaining ingredients except the olive oil in a food processor (don't bother measuring half – it's all going to get mixed together later). Pulse until the mixture is minced and grainy, but not pureed. Place in a large bowl, then process the second half and stir everything together in the bowl.
Form the falafel into rounded discs by putting a couple tablespoons in the center of your palm and giving it four or five hard squeezes with both hands as you mold it into shape (you can use your thumbs to help round the edges). Place them on the baking sheet very carefully – if they break apart, re-form and repeat. Fit as many as you can on the baking sheet without overcrowding; it may take three rounds of baking to cook them all.
Brush the tops lightly with olive oil. Bake 10 minutes, then carefully flip and bake 10 minutes longer. Serve immediately, or refrigerate and reheat by wrapping in foil and baking in a 350-degree oven for 15 minutes (30 minutes if frozen.)