Apr 25, 2011
Quinoa pilaf with ramps, artichokes and peas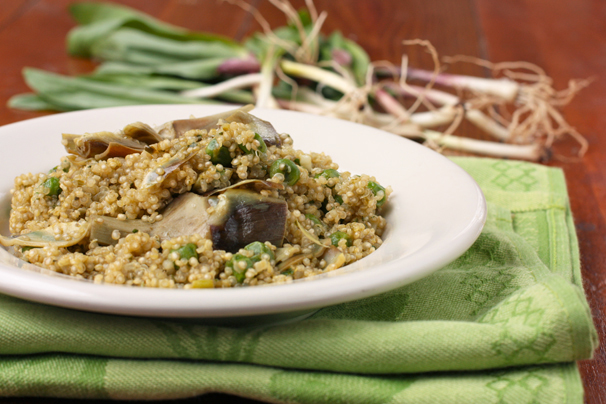 With ramps in season, it's time to act fast – and this quinoa with baby artichokes and ramps is the perfect showcase for them.
My friend and co-worker Jenna didn't seem to think she'd like quinoa, and she had never heard of ramps. So rather than trying to talk her into cooking them herself, I brought some of my leftover pilaf to the office. After a few bites of this light and super springy dish, she couldn't stop talking about how light and flavorful it was. I had made a quinoa and a ramp lover out of her in one fell swoop! And being somewhat of a health fanatic, Jenna was excited to learn that quinoa is a complete protein.
For a delicious variation on this recipe, try using asparagus instead of artichokes (but steam it separately and add to the quinoa just before serving).  You can also use more ramps than I've called for here….it depends on how much of a fan you are.
Some people would call this kind of dish "quinoa risotto."  Sorry, I don't really buy quinoa as a risotto grain. Barley or farro risotto, I get that.  But quinoa is a different animal – actually, it's a seed – so I'm calling this a pilaf.
In any case, I hope you'll run to the nearest farmer's market this week and snap up some ramps. You don't want to have ramp regret come June, now do you?
Spring Quinoa Pilaf with Ramps, Artichokes and Peas
1 bunch ramps (about 15-20)
2 teaspoons freshly grated lemon zest
Juice of one lemon
2 tablespoons flat-leaf parsley, chopped
4 tablespoons extra virgin olive oil
1 lemon, halved
10 baby artichokes
3 cloves garlic, minced
½ teaspoon fresh thyme
2 cups quinoa, well rinsed (unless you use a pre-rinsed variety)
1/2 cup dry white wine, such as sauvignon blanc
3 1/4 cups vegetable broth
1 cup fresh shelled or frozen peas
Salt to taste
Freshly ground black pepper to taste
Cut the green ramp leaves off the stems, and chop the stems. Bring a pot of water to boil. Drop in the ramp leaves and blanch for about one minute. Drain and puree in a food processor with the lemon zest, lemon juice, parsley and 2 ½ tablespoons olive oil. Set aside until needed.
Squeeze the juice from the lemon into a large bowl of cold water, and throw the squeezed lemon halves into the water, too.
Peel away the tough outer leaves of the baby artichokes, until just the more tender light green leaves are left. Cut off the top 1/2 inch from the artichoke and trim the stem of any tough-looking parts. Quarter the artichokes and put them in the lemon water while you start the risotto.
Heat 1 1/2 tablespoons olive oil over medium heat in a large heavy saucepan. Drain the artichokes from the lemon water and sauté them for 5 minutes. Add the garlic and chopped ramp stems and cook 5 minutes more. Add the quinoa and sauté for 1 minute, stirring constantly. Add the wine and fresh thyme, and cook until the liquid is absorbed, about 1 minute.
Add the broth; bring to a boil, lower heat and simmer 10 minutes, stirring frequently. Add the peas and simmer another 4-6 minutes, stirring often. (The quinoa should be almost soft but still have a bit of a crunch. You should see a little white ring separating from each grain.) Season with salt and pepper to taste. Stir in ramp puree and serve.
Serves 6 as a main dish, or 8 as a side dish
This is being submitted to this week's Weekend Herb Blogging, hosted by Min at Honest Vanilla.
I hope you'll Like, Tweet or StumbleUpon this post using the handy buttons below. Gracias.