May 3, 2011
Moroccan chickpea and vegetable stew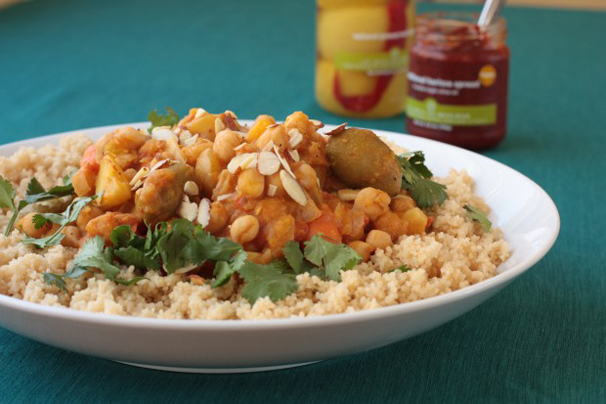 The combination of butternut squash and warm spices with the piquant flavors of olives and preserved lemons give this Moroccan chickpea stew the kind of sweet, salty and tangy complexity I can't resist. This recipe is also proof (like I needed more proof) that you don't need meat to make a hearty main course. This is about as satisfying – and nutritious – as it gets.
I based this stew on an Aida Mollenkamp recipe, but used a more interesting spice mixture – including ground caraway seeds and coriander – as suggested in Martha Rose Shulman's chickpea stew recipe from her book Mediterranean Harvest
.
The harissa is an essential ingredient here, both in the stew and as a garnish. I bought a commercial brand, but here again, you can easily go the DIY route. I had never used preserved lemons before, and was quite taken with them. In fact, I might add even more of it next time I make this. Interestingly, when Deb from Smitten Kitchen made the same Aida Mollenkamp recipe, she hated the preserved lemons. I have to wonder if it was something about the particular brand, because the ones I bought were delicious. It's also easy to make your own.
While you can make this with canned chickpeas, I do hope you'll cook your own from scratch if you have time (it takes about two cups of dried chickpeas.) Not only are they tastier than canned chickpeas, it will save you a few bucks. And who doesn't need that?
Moroccan Chickpea and Vegetable Stew
3 tablespoons olive oil
1 large Spanish onion
6 large cloves garlic, thinly sliced
1 tablespoon ground cumin
1 teaspoon ground caraway seeds
1/4 teaspoon cayenne pepper
1/4 teaspoon salt
1/4 teaspoon freshly ground black pepper
pinch cinnamon
2 teaspoons ground coriander
1 pound butternut squash, cut into 3/4-inch cubes
1/2 pound carrots, chopped
¾ pound new or Yukon gold potatoes, cut into 1/2-inch cubes
4 cups cooked chickpeas
1 1/2 teaspoons harissa
pinch crumbled saffron threads
1 14-ounce can diced tomatoes, with juice (recommend Eden Organic tomatoes, which are diced very small)
3 ½ – 4 cups vegetable stock
½ preserved lemon, finely chopped
1 cup large green olives, such as Cerignola
Garnishes:
Toasted sliced or slivered almonds
Chopped fresh cilantro
Plain yogurt (soy or regular)
Harissa
Heat the oil in a large dutch oven or heavy-bottomed pot. Add the onions, garlic, spices, salt and pepper and cook over medium heat for about 5 minutes. Stir in the squash, carrots and potatoes and cook for 5 minutes. Add chickpeas harissa, saffron, and tomatoes. Add vegetable stock to just barely cover the vegetables. Cook, covered, for about 20-30 minutes, until vegetables are tender. Season with additional salt to taste, then stir in the preserved lemon and olives. Serve, garnishing with the suggested additions as you like.
Serves 6
Pretty please ….Like, tweet or StumbleUpon this recipe!