Feb 7, 2011
Pasta with spicy romesco marinara sauce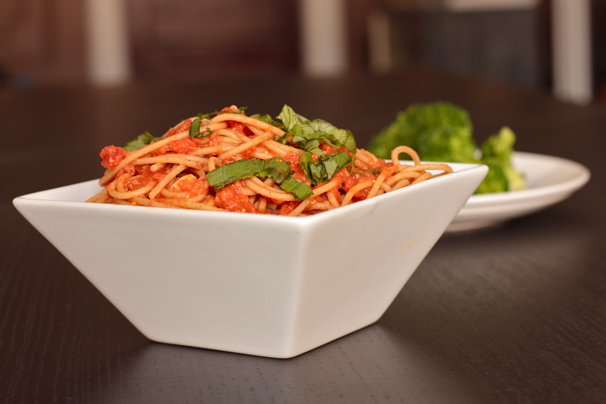 Today I combined elements of two classic sauces, Romesco and marinara, to make a delicious pasta sauce. It was a spur-of-the-moment idea, but I think it's destined to become a staple in my repertoire. The roasted red peppers and toasted almonds add lovely body and a smoky flavor to the tomato sauce, while the hefty dose of crushed red peppers and garlic keep things interesting. (Of course, if you don't like spicy food, just leave the peppers out and it will still be great.)
This sauce has a nutritional edge over plain old marinara, too – the peppers are an amazing source of vitamins C and A, not to mention fiber and those orange-red cartonoids that are so good for you. And of course, the almonds provide antioxidants and healthy fats. So you can eat your pasta and feel good about it, too.
I can't wait to try some variations on this sauce. The creaminess from the almonds brings vodka sauce to mind, so next time I may add some vodka – why not? I'm also planning to use it in a mushroom lasagna. Seriously, I think I'm in love.
Pasta with Spicy Romesco Marinara Sauce
2 large red bell peppers (or a mixture of red and yellow), roasted and peeled
1/4 cup slivered almonds, toasted
2 teaspoons red wine vinegar
2 tablespoons extra virgin olive oil
4 or 5 large cloves garlic, minced
1/2 teaspoon crushed red pepper flakes, optional
28-ounce can crushed tomatoes (see note below)
Salt and pepper to taste
3 tablespoons chopped fresh basil
1 pound whole wheat spaghetti, penne or rigatoni (use gluten-free pasta if you prefer)
Puree the roasted peppers, almonds and vinegar in a blender or food processor until smooth. Heat the oil in a large dutch oven. Add the garlic and crushed red pepper and cook over medium heat for 2-3 minutes. Add the tomatoes and pepper puree. Season with salt and pepper to taste. Bring the sauce to a boil, reduce heat and simmer gently for 15 minutes. Add the basil. Cook the pasta until al dente, toss with the sauce and serve.
Note: the quality of the canned crushed tomatoes does make a difference here. I used the organic Bionaturae brand, and they were delicious. Bionaturae or Pomi diced/chopped tomatoes will also work, because they are really more like crushed than the description implies. Muir Glen's crushed tomatoes are also a good option.
Serves 4-6