Jan 13, 2011
Vegan oatmeal-pecan cookies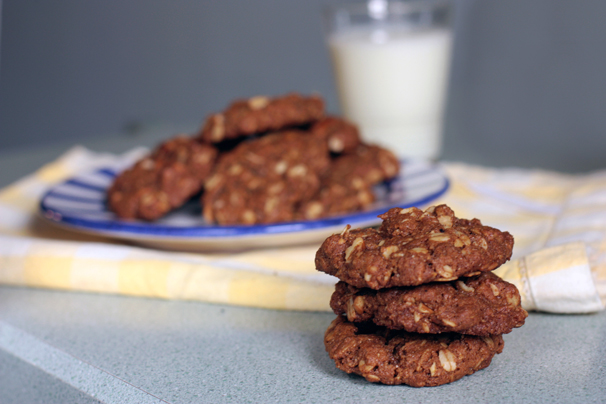 Why do oatmeal cookies conjure up warm, fuzzy memories of Grandma's cookie jar? They just seem so wholesome and innocent. They're like the cookie equivalent of a yellow lab puppy. Of course, their wholesome reputation is mostly an illusion – I mean, they're still cookies loaded with sugar. Then again, the soluble fiber in oatmeal does lower cholesterol. There, I've justified this treat as being heart-healthy. Damn, that was easy.
My fairly low fat, vegan version of oatmeal cookies includes molasses and toasted pecans for a deep, dark flavor, and the optional chocolate chips complement the molasses nicely. Best of all, they're crispy on the outside and soft in the middle, so they won't cause any fistfights between the crunchy cookie people and the chewy cookie people in your house. Grandma would be happy about that.
Backstory: When I first developed this recipe, it contained twice the oil, twice the nuts, and half an egg instead of the vegan "flax egg."  The result was delicious – but I felt that the cookies were too high in fat to post on my heart-healthy blog. So I made some adjustments and brought both versions to my office of trusty testers. Surprisingly, most everyone liked the lower fat version as much as or even more than the original. So I'm declaring the low fat cookies a big winner!
Vegan Oatmeal-Pecan Cookies
1 cup whole wheat pastry flour
1 ¼ cup rolled oats (old fashioned, not quick)
3/4 teaspoon baking powder
1/2 teaspoon baking soda
Scant ½ teaspoon salt
1 teaspoon cinnamon
1/4  cup chopped pecans (or substitute macadamias or walnuts), toasted
1 tablespoon ground flax mixed with 3 tablespoons water
½ cup brown sugar
1/4 cup maple syrup
2 tablespoons unsulphured molasses
1 teaspoon vanilla
1/4 cup organic canola oil
¼ cup dark chocolate chips, optional
Heat the oven to 350 degrees.
Whisk together the flax and water, and heat in a microwave for 1 minute, or simmer for a minute on the stove. Combine flour, oats, baking powder, baking soda, salt and cinnamon and nuts in a bowl.
In separate bowl, whisk together flax mixture, brown sugar, maple syrup, molasses, vanilla, and oil. Add to dry ingredients and mix well. Stir in the pecans and optional chocolate chips.
Drop by the tablespoon on an ungreased cookie sheet. Bake for 12 minutes. Remove from the cookie sheet while still warm and place on a rack or a plate to cool.
Makes about 30 cookies