Oct 4, 2010
Vegan apple crisp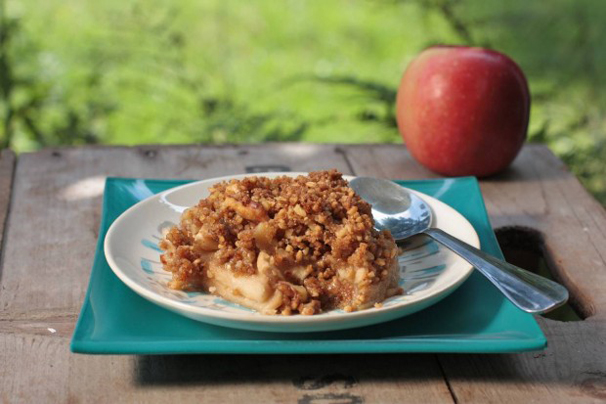 The minute the leaves start changing, I just have to make apple crisp. It's like the official announcement of autumn. I also love experimenting with different types of apples. This time I used a mixture of incredible heirloom apple varieties from Montgomery Orchards, including Cox's Orange Pippin, Pink Pearl and Swiss Gourmet.
My crisp topping, of course, doesn't include butter – it's made with organic canola oil. I also sometimes use macadamia nut oil, which is one of the heart-healthiest oils available. Some lowfat crisp toppings aren't actually crispy, but I've figured out a solution: if you add a little water to the mixture just before cooking, it creates a crunchier texture. This time, I also took a leap and tried using steel cut oats instead of rolled oats. My friend Renee really loved the crunch factor, and I happily devoured it, too. But I still think regular oats make for a more comforting dessert – so while the photo shows the steel cut version, I've provided my "usual" recipe which always draws raves. So put on a sweater and get baking – fall is here!
Apple Crisp
2 ½ pounds apples (about 7), peeled and thinly sliced
2 tablespoons sugar
2 tablespoons brown sugar
2 teaspoons flour
1/4 teaspoon cinnamon
1/8 teaspoon freshly grated nutmeg
Small pinch cloves
2 teaspoons lemon juice
2/3 cup rolled oats (old fashioned, not quick cooking)
2/3 cup whole wheat pastry flour
2/3 cup light brown sugar
½ cup chopped walnuts
½ teaspoon baking powder
1 teaspoon cinnamon
¼ teaspoon salt
¼ cup organic canola oil
2 tablespoons water
Heat the oven to 350 degrees.
Mix the apples with the next seven ingredients (through lemon juice).
In a separate bowl, mix the oats, flour, brown sugar walnuts, baking powder, cinnamon and salt. Drizzle the organic canola oil over the dry mixture and combine with your fingers until crumbly. Add the water and stir briefly with a fork.
Put the apple mixture in an 8×8" baking dish, then sprinkle on the crumbly topping. Bake for 40 minutes, or until the top is golden and the apples are tender.