Oct 26, 2010
Stuffed Kabocha squash with quinoa and chickpeas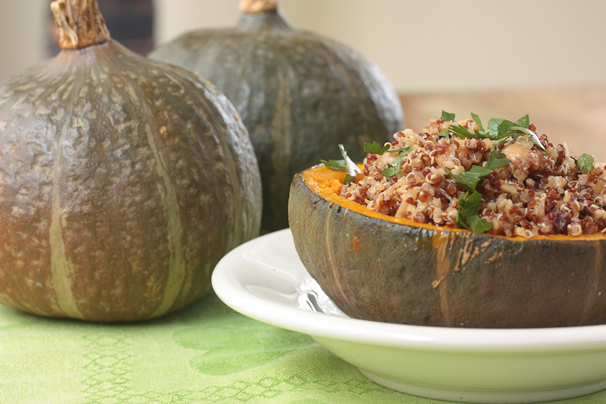 I'm having a field day with fall food lately, as if you couldn't tell. It's absolutely my favorite food season. All the deep oranges and greens – the food looks almost too gorgeous to eat!
This stuffed squash is substantial yet not heavy, thanks to the light and crunchy quinoa. This tiny grain provides complete protein – serve some sautéed kale or Swiss chard on the side, and you've got the perfect meal for a cool autumn evening.
If you have fig balsamic vinegar, try drizzling a very small amount on top – it's delicious. Or consider adding pomegranate seeds at the end of the cooking time, in place of the currants. I haven't tried that, but if you do, please report back!
Stuffed Kabocha Squash with Quinoa and Chickpeas
4 kabocha squash, halved horizontally*, seeded
2 tablespoons + 1 teaspoon olive oil
2 cups thinly sliced leeks, white and light green parts
2 cups red quinoa, rinsed thoroughly if not using the no-rinse variety
½ cup dry sherry
3 1/2 cups vegetable stock (use a gluten-free stock if you are gluten-sensitive)
½ teaspoon salt (reduce amount if your stock is very salty)
¼ teaspoon freshly ground black pepper
2 tablespoons fresh chopped sage
3 tablespoons chopped flat-leaf parsley, plus additional for garnish
1 ½ cups chickpeas (canned are fine here)
2 tablespoons currants
Heat the oven to 375 degrees.
Rub the cut edges of the squash with a teaspoon of olive oil and place on a baking sheet (or two, as necessary), cut side down. Cover tightly with foil and roast until very tender, about 45 minutes.
Meanwhile, heat the olive oil over medium heat in a large saucepan. Add the leeks and sauté until golden, about 10 minutes. Add the quinoa and cook, stirring, for two or three minutes. Add the sherry and cook for another minute. Add all remaining ingredients and bring to a boil. Reduce heat, cover and simmer for about 15 minutes, until water is absorbed and quinoa is just tender. Adjust seasoning to taste.
Turn the squash halves over and fill the cavities generously with the quinoa mixture. Return to the oven, cover lightly with foil and bake at 350 degrees for 15 minutes. Garnish with additional chopped parsley and serve.
* Helpful hint: slice a bit off the rounded bottom of each squash half to create a small flat surface (about 1 inch in diameter) and it will sit in the pan without wobbling.
Serves 8.