Jul 27, 2010
Tomatillo and cherry tomato salsa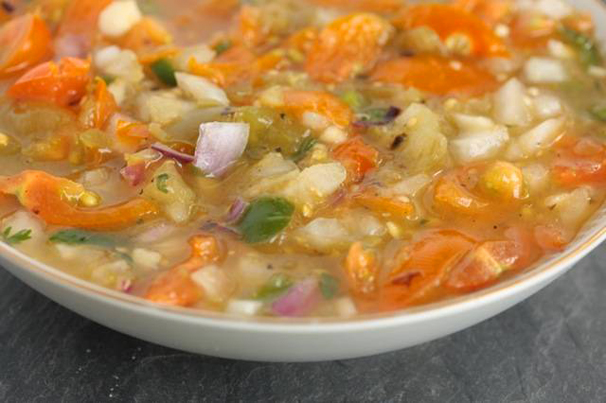 I was standing in the kitchen of my country shack, staring at one pile of tomatillos I'd just picked, and another pile of beautiful Sungold cherry tomatoes.  I was in the mood for a spicy snack, so I decided to make salsa.  But should it be pico de gallo or tomatillo salsa?  Turned out I didn't have to choose.  I'd never seen a salsa that combined tomatoes and tomatillos, but I thought, why not?  The experiment was a smashing success. The tangy tomatillos and super-sweet cherry tomatoes balance each other out to perfection. I could drink this stuff – and practically did.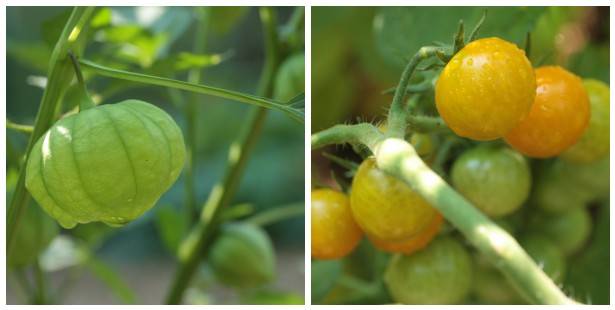 The recipe below makes a pretty small batch – maybe enough to serve four normal people as a snack (as opposed to someone like me – I ate the entire bowl!)  Be sure to use perfectly ripe, sweet cherry tomatoes that have never been refrigerated. This just wouldn't be the same with supermarket-variety tomatoes.
This salsa is terrific with homemade pan-roasted tortilla chips. Simply cut torn tortillas into wedges and cook in a cast iron pan with just a little canola oil, turning until the tortilla pieces get dry and crispy. Or just bake them at 400 degrees for 5-7 minutes. So much better than the store-bought variety.
Tomatillo and Cherry Tomato Salsa
6 tomatillos, husked and rinsed
1 clove garlic, minced
3 tablespoons diced red or white onion
1 jalapeno or serrano pepper, minced
10-12 small cherry tomatoes, chopped
1 tablespoon chopped cilantro
1-2 teaspoons lime juice
Salt to taste
Sear the tomatillos in a hot, dry cast iron skillet until starting to blacken – about 5 minutes.  Transfer to a food processor and pulse a few times to get a rough puree.
Combine all ingredients in a bowl, adding the lime juice a little at a time, to taste. It doesn't need much because the tomatillos are so tangy. I didn't think it needed salt either, but you can add some if you'd like.