Jul 11, 2010
Squash ribbon salad with Thai basil and peanuts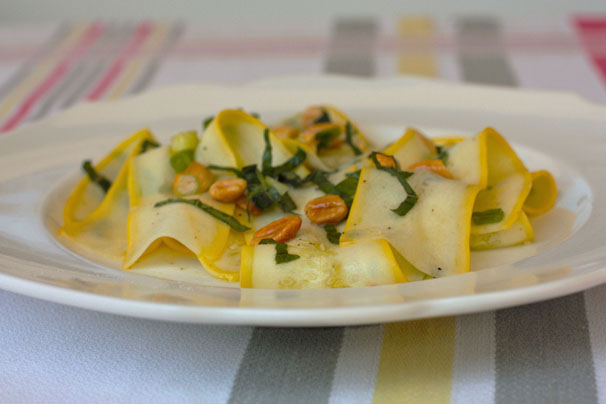 I wanted to create a refreshing salad with Southeast Asian  flavors, using the fresh produce fresh from my garden. I considered the Chayote Squash Salad with Peanuts and Lime recipe in Sally Schneider's great book,  A New Way to Cook
. But she suggests blanching the chayote, which didn't sound that exciting. I tried making it with grilled zucchini, but the texture was a little rubbery, and the grilled squash overwhelmed the ultra-light dressing. Disgruntled, I started to think that this salad experiment wasn't such a good idea. Then it occurred to me to use raw yellow squash, sliced into paper-thin slices. I substituted Thai Basil for the cilantro in the recipe, scallions for the shallots, and BINGO! The texture of the "ribbons" was a revelation – I wouldn't have believed raw squash could be so delicate. If you make this, be sure to search out young, tender squash, because it makes all the difference.
Squash Ribbon Salad with Thai Basil and Peanuts
2 medium yellow squash
2 tablespoons chopped scallions
2 tablespoons extra virgin olive oil
2 tablespoons fresh-squeezed lime juice
1/2 teaspoons. sugar
1/4 teaspoon salt
1/8 teaspoon freshly ground black pepper
1/4 cup thai basil chiffonade
1/4 cup dry roasted peanuts, left whole if small, chopped if large
Cut the ends off the squash. Using a mandoline, slice it lengthwise into very thin ribbons. (If you don't have a mandoline, you can use a vegetable peeler.) Place in a serving bowl.
In a separate bowl, whisk together the oil, lime juice, sugar, pepper and salt. Pour over the squash and let sit for five minutes. Add the Thai basil and peanuts and stir very gently to combine. Serve at room temperature.