Sep 26, 2010
Authentic Chana Masala
I advanced to Round 2 of Project Food Blog! The second Challenge is to cook a classic dish from another culture.
If you read my entry for the first PFB Challenge, you know I came down with a nasty case of clogged arteries before I hit 45.  Up to that time, I was obsessed with Indian food. Not cooking it, just eating it – at restaurants from San Francisco to London and points in between.  Pork vindaloo, samosas, creamy chicken korma … I ate it in all its ghee-filled, deep fried glory.
Today, Indian restaurants are off-limits to me – my cholesterol just can't take it. But now I've discovered that home-cooked Indian food can actually be remarkably healthy, as long as you choose carefully and use the right ingredients.
For this Challenge, I wanted to make a dish that was both classic and nutritious, and I found it in Chana Masala (aka Chole Masala): a traditional Punjabi favorite featuring chickpeas, tomatoes and spices. This is a perfect recipe for me (and you!) because chickpeas contain soluble fiber, the same substance that's in oatmeal. It grabs onto cholesterol and carries it right out of your body.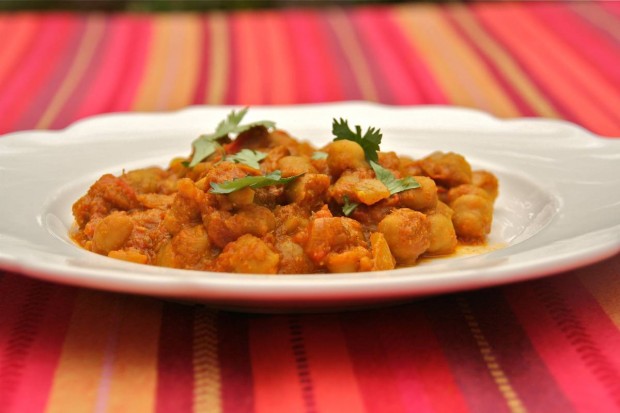 I developed this recipe based on several sources, including this recipe adapted from a Madhur Jaffrey recipe, and this recipe. It includes crushed toasted coriander seeds, amchur (unripe mango) powder, anardana (dried pomegranate powder), fresh hot green chiles and of course chickpeas cooked from scratch. As a result, this chana masala has it all: it's spicy and fragrant, and has a wonderful slightly sour bite thanks to the amchur powder. Lowering your risk of heart disease never tasted so good.
Chana Masala
3/4 pound dried chickpeas
1 earl grey tea bag
4 large cloves garlic
3 medium onions, chopped, divided in half
2-3 fresh green chiles (such as serrano), stemmed
1-inch piece fresh ginger, peeled and roughly chopped
2 teaspoons turmeric
1/2 teaspoon cayenne pepper (less if you don't want it so spicy)
1 teaspoon paprika
2 teaspoons amchur powder (dried mango powder)
1/2 teaspoon anardana (dried pomegranate powder)
2 tablespoons high-oleic safflower oil
2 teaspoons cumin seeds
2 cups finely chopped tomatoes (if using fresh tomatoes, peel them)
2 teaspoons ground cumin
1 tablespoon ground coriander
1 teaspoon garam masala
1 teaspoon salt
1/4 cup water
1/4 cup chopped cilantro
Soak the chickpeas overnight.  Drain, return to a large pot and cover generously with water.  Add the teabag, bring to a boil, then reduce heat and simmer until tender, about 1-2 hours depending on the age of your chickpeas.
Place 1 cup of cooked chickpeas, half the onion, garlic, green chiles, ginger, turmeric, cayenne, paprika, amchur and anardana in a food processor and process until very smooth.
Heat the oil in a large dutch oven. Add the cumin seeds and cook for 30 seconds, then add the remaining half of the onions and cook over medium heat until starting to turn golden brown. Add the spice paste and cook for about 10 minutes, stirring constantly. Add the tomatoes, ground cumin, coriander, garam masala and salt, and cook for another 10 minutes, stirring frequently. Add the cooked chickpeas and water.  Cook 10 minutes more, adjust salt to taste, then add cilantro and serve.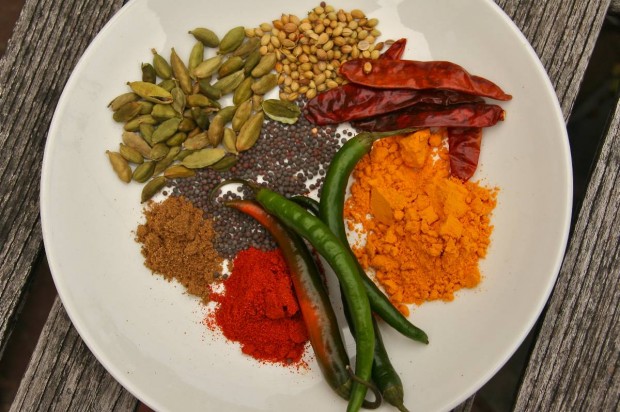 But I didn't stop with Chana Masala on my healthy Indian cooking adventure. The very same day, I also made:
Baked Samosas (with this filling and this dough)
Ghobi Matar (cauliflower and pea curry – my own recipe)
Dal with Cinnamon, Cardamom and Cloves
Chicken Saag
Beet Raita (made with my  homemade pickled beets – recipe coming this week!)
Tamarind Chutney
Whew!  Oh, and did I mention that 15 people came over that night for a healthy Indian feast?  Yeah, I never do things halfway.
P.S. Don't forget to vote for me here. I think you have to register to vote, but … c'mon, it's fun!