Mar 28, 2016
Leek and wild mushroom tart with cashew cream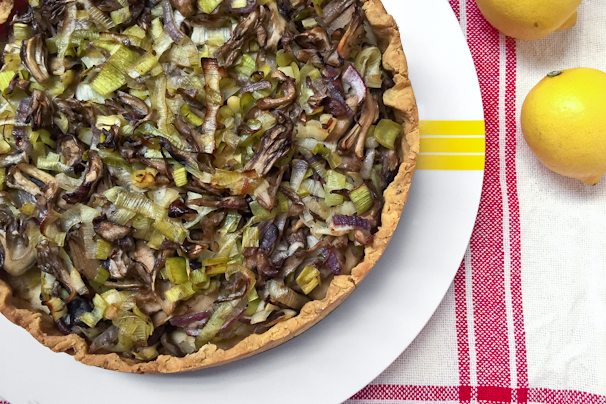 It's not often that a gluten-free, vegan recipe can completely win over every meat eater in the room, but this savory tart does it, thanks to a crunchy chickpea flour crust, a rich cashew cream filling and a savory vegetable topping.
My original version of the tart was topped with caramelized onions and greens. I've got to thank Dani of the blog Just Kale Me Now for coming up with the idea of using mushrooms and leeks instead. I made Dani's version today, changing only the variety of mushrooms used, and it was perfect for the Easter lunch at my friends' place. (Thank you Robyn and Elisabeth for letting me barge in and start taking photos before we sat down to eat!)
You could use any combination of mushrooms, but I love a mix of oyster, shiitake and maitake mushrooms. Not a mushroom fan? No worries, this tart is very versatile – whatever vegetables you want to top it with will probably taste great. Asparagus and red peppers…zucchini and sun dried tomatoes…use your imagination. Just be sure to include onions or leeks, I think the allium family is key. (Isn't it always?)

Print
Leek and Wild Mushroom Tart with Cashew Cream
For the cashew cream:
3/4 cup raw unsalted cashews, soaked in water for 6-8 hrs, drained and rinsed
1-2 cloves garlic
¼ teaspoon salt
1 tablespoon lemon juice
¼ cup water
For the leek and mushroom topping:
3 tablespoons extra virgin olive oil, divided
3 leeks, white and light green parts thinly sliced (2 leeks if they are huge with lots of white)
1 pound mixed wild mushrooms, sliced
Salt and pepper to taste
For the crust:
1 3/4 c. chickpea (garbanzo bean) flour
1/2 teaspoon salt
1/2 teaspoon dried thyme
1/4 c. extra virgin olive oil
1/4 c. cold water
Puree all of the cashew cream ingredients in a food processor until very smooth and thick. This will take up to five minutes, and may require scraping down the sides of the processor. If the mixture seems to dry to become creamy, add one or two teaspoons of water as needed.
For the vegetables, heat 1 1/2 tablespoons olive oil in a large deep skillet or Dutch oven. Cook the leeks and a pinch of salt over low heat for 7-10 minutes, until soft but not browned. Remove to a bowl.
Heat the remaining 1 1/2 tablespoons olive oil in the pan, increase the heat to medium and add the mushrooms along with another pinch of salt and a generous amount of black pepper. Sauté for 3-4 minutes, until the mushrooms are soft and most of the liquid has cooked off. Combine with the leeks.
To make the dough, mix the chickpea flour, salt and thyme. Drizzle the olive oil over the flour mixture and work together with your hands until crumbly. Add the water and mix very briefly, just until dough comes together.
Flatten the dough into a disk on a floured work surface (I used all purpose flour for the work surface, but you can use a gluten-free flour.) Roll it out with a rolling pin to about 1 inch larger than the diameter of your tart pan.
Loosen the dough by slipping a pastry lifter or metal spatula underneath. Fold in half and carefully transfer to a fluted metal tart pan, pressing it into the bottom and sides. If the dough breaks, don't worry – you can easily piece it together in the pan.
Heat the oven to 400 degrees. Cover the crust lightly with foil (don't press), add some dried beans or pie weights and bake for 10 minutes. Let cool slightly.
Top the partially-baked crust with the cashew cream, then the leek and mushroom mixture. Return to the oven and bake for 25 minutes longer. Serve warm or at room temperature.
Serves 6