Jan 29, 2013
Mediterranean quinoa salad with black soybeans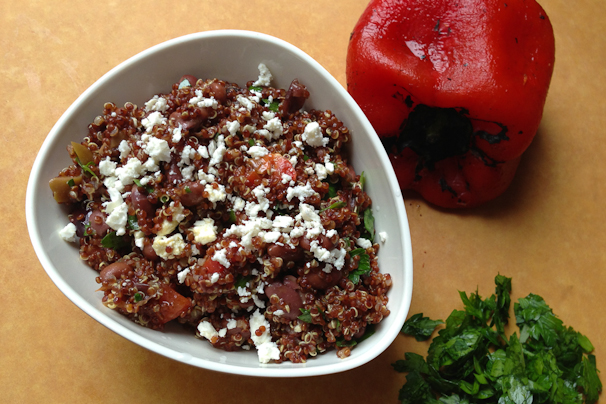 My husband Tim has been on a bit of a low carb/high protein kick. In addition to working out like a madman, he eats Greek yogurt for breakfast, and snacks on vegetarian jerky.  If I make cookies, he doesn't even try one. In other words, he is making me look like a total slacker (damn you, Tim!)
Which brings me to black soybeans. Tim kept wanting me to come up with a recipe that included these super low-carb beans. I guess I was a bit resistant, because the can I bought languished in the cabinet month after month. But one day I gave in and decided to try them in a simple quinoa salad.
Um, black soybeans, where have you been all my life?
The beans were delicious (she admits, sheepishly), and it's hard to go wrong with the Mediterranean flavors of lemon, olives, red peppers and feta cheese. And with loads of protein, fiber and vitamins, this salad is a heart health superstar.
I may never catch up with Tim in the weight loss department, but he has definitely inspired me to eat more protein and fewer carbs.  I'm not quitting cookies altogether, and I'll never be a protein bar eater, but thanks to this salad, I will happily eat black soybeans for lunch.

Print
Mediterranean Quinoa Salad with Black Soybeans
1 cup quinoa (I prefer red, but any type will do)
1.5 cups vegetable broth
1/4 cup fresh lemon juice
1/4 cup extra-virgin olive oil
1 cup of cooked black soybeans, rinsed (if using canned, recommend BPA-free Eden brand)
1/4 cup chopped kalamata olives
1 red bell pepper, roasted, peeled and diced
2 tablespoons minced flat-leaf parsley
Salt and freshly ground black pepper to taste
2 tablespoons fat-free feta cheese
Place the quinoa and broth in a small saucepan. Heat to boiling, then reduce heat, cover and simmer for 12-14 minutes, until water is absorbed and quinoa is cooked but still a bit crunchy. Cool slightly.
In a serving bowl, whisk together the olive oil and lemon juice. Add olives, red pepper, parsley, salt and pepper, then gently stir in quinoa and beans. Top with feta cheese and serve. (Note: keeps well for three days, but I think it's best served immediately, as flavors can fade slightly with refrigeration.)
Serves 4