Nov 14, 2012
Winter green salad with butternut squash and beets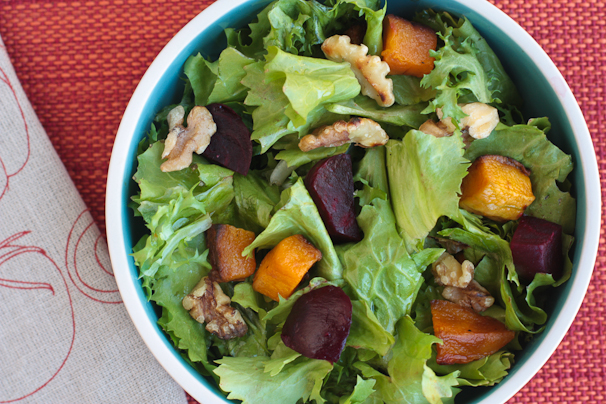 This is the perfect hearty salad to complement the flavors of Thanksgiving.  I love the sturdy-but-not-tough texture of escarole and curly endive, and its slight bitterness goes really well with the sweetness of the root vegetables. Add toasted walnuts and a garlicky, mustardy dressing with a touch of maple syrup, and you've pretty much achieved winter salad nirvana.
This recipe serves a crowd, so it's a good holiday dish. I think it would be fine for 10 people. My husband and I ate it for days on end!
This is my fourth Thanksgiving recipe for this year's Healthy Thanksgiving Challenge. Be sure to take part, and while you're at it, enter to win some great cookbooks.

Print

Winter Green Salad with Butternut Squash and Beets

½ cup extra virgin olive oil, divided

1 medium/large beet, peeled and cubed

1 medium butternut squash, peeled, seeded and cubed

2 teaspoons fresh thyme leaves (optional)

5 tablespoons champagne vinegar (or white wine vinegar)

1 garlic clove, finely minced

2 teaspoons coarse-grain Dijon mustard

2 teaspoons maple syrup

Salt and freshly ground black pepper to taste

1 head escarole, washed and chopped

1 head curly endive/frisee, washed and chopped

1/2 cup walnuts, lightly toasted and chopped

Preheat oven to 400 degrees.

Toss the beet and squash with 1tablespoon olive oil and thyme, and place on a rimmed baking sheet. Roast for 35 minutes, or until tender and browned.

To make the dressing, whisk the vinegar, garlic, mustard, maple syrup, salt and pepper. Slowly whisk in the remaining olive oil.

Place the greens in a large serving bowl. Toss with the dressing, then add the roasted beets, squash and walnuts.

Serves 8-10