Mar 5, 2012
White bean bruschetta with gremolata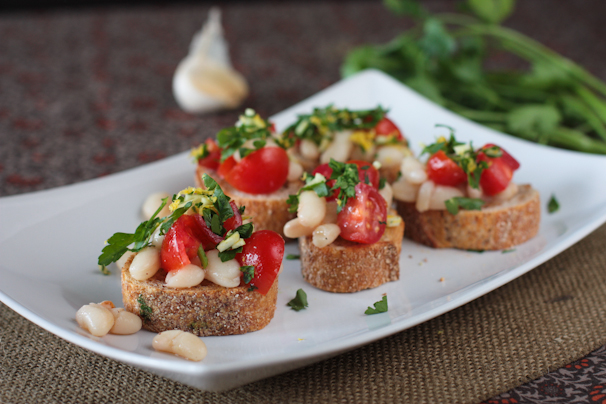 This white bean bruschetta is perfect for a party appetizer, or just for snacking. It fits my Top 3 criteria:
Easy.
Healthy.
Delicious.
Sure, I've had white bean bruschetta before, and it's always good. But the gremolata topping here – the holy trinity of lemon zest, garlic and parsley – puts this bruschetta in a category of its own. It adds an assertive fresh tanginess that's a bit unexpected.
I took some upstairs to my neighbor/taste-tester Shauna, and her lovely mom, who was visiting. The two of them gobbled these right up. I had the feeling they wished there were more than four little pieces on the plate. But alas, I had already gobbled up a lot of them myself.
I can't wait to try this recipe with some heirloom beans. Believe it or not, I just ordered some called Alubia Blanca de San Jose Iturbide. I'll report back on those, on Facebook and Twitter.

Print

White Bean Bruschetta With Gremolata

1 whole wheat baguette, sliced
1½ cups cooked cannellini beans (drained and rinsed if canned*)
1 cup cherry or grape tomatoes, quartered
Salt, to taste
Pinch of freshly ground black pepper
2 tablespoons extra virgin olive oil (or more as needed), divided
2 tablespoons finely chopped flat-leaf parsley
3-4 cloves garlic, finely minced
Grated zest of 1 large lemon
Coarse salt

Heat the oven to 400 degrees. Place the baguette slices on a baking sheet and brush very lightly with olive oil. Bake for 10 minutes or until slightly crunchy.

Combine the beans, cherry tomatoes and 1 tablespoon olive oil. Salt lightly, to taste and add black pepper. In a small bowl, combine the parsley, garlic and lemon zest.

Top the bread slices with the bean mixture, then sprinkle on the gremolata. Drizzle with olive oil and a little coarse salt.

* If using canned beans, I recommend Eden brand, as their cans do not contain BPA.

Serves 6