Feb 21, 2012
Marinara sauce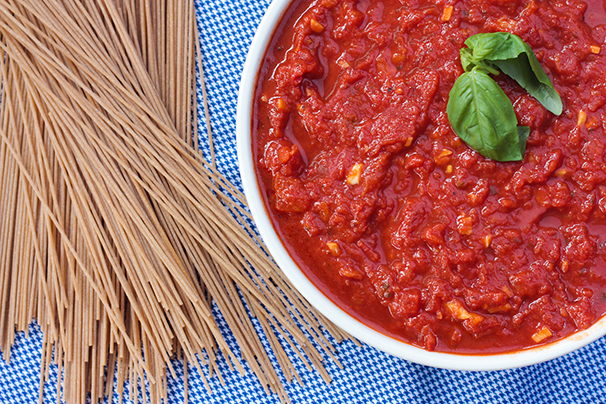 OK, let me confess right up front – I eat much more pasta than this blog lets on. As a matter of fact, a bowl of pasta with marinara sauce is one of my favorite things in the world, and I eat it at least once a week (with whole wheat pasta, of course!)
So I'm not sure why it took me so long to post my marinara sauce recipe. It's truly one of my standards.
It's unbelievable how many people have never made their own marinara sauce. It's so easy, and so good … what are they waiting for?! This recipe is a great place to start, and lends itself to lots of variations. Sometimes I add a whole bunch of sliced mushrooms. Other times I load it up with fresh herbs like rosemary, thyme and parsley, or add pickled hot cherry peppers for a fra diavolo sauce.
As every recipe seems to say, the quality of your sauce will depend in large part on the quality of your tomatoes. While San Marzanos make amazing marinara sauce, I've moved away from canned tomatoes out of concern about BPA, and am using imported Italian Pomi tomatoes in tetra-packs instead. And they are really good (carbon footprint notwithstanding). For the same reason, I also like jarred tomato paste from Bionaturae. It's a bit thinner than regular tomato paste, so if you use the canned variety you can use less, as noted in the recipe.
This sauce is especially good in my soon-to-be-famous cashew-tofu lasagna, which I'll post soon.

Print

Marinara Sauce

2-3 tablespoons extra virgin olive oil
3 tablespoons minced fresh garlic
1 small carrot, grated
1 small yellow onion, finely chopped (optional)
¼ teaspoon crushed red pepper flakes
6-ounce jar Bionaturae tomato paste (or 3 tablespoons canned tomato paste)
1 cup Pomi strained tomatoes (or canned tomato sauce)
2 26-ounce packages Pomi chopped tomatoes (or 2 28-ounce cans whole San Marzano tomatoes crushed thoroughly by hand)
1 teaspoon dried oregano leaves
1/2 teaspoon dried thyme
1 bay leaf
½ teaspoon salt
¼ teaspoon freshly-ground black pepper
¼ cup chopped fresh basil

Heat the olive oil over low heat in a large Dutch oven. Add the garlic, carrot, onion (if using) and crushed red pepper. Cook, stirring, for 10 minutes (the garlic should not brown.)

Add the tomato paste, raise the heat to medium and cook for 2-3 minutes. Add the tomatoes, oregano, thyme, bay leaf, salt and pepper. Bring to a boil, then reduce heat and simmer for 30 minutes. Add fresh basil. Taste and add salt if necessary. Remove bay leaf and serve.

Serves 6