Dec 23, 2011
Arugula, beet, orange and avocado salad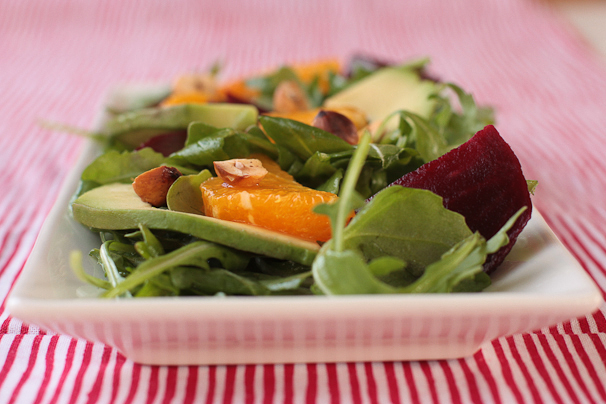 On a recent trip to Los Angeles, I had the pleasure of dining at Gjelina, with a few friends including Adair from the amazing Lentil Breakdown. Aside from the wonderful conversation, the salad of beets, avocado, citrus and toasted hazelnuts was a highlight of the meal. I've recreated it here, with the addition of arugula. This colorful salad makes a stunning addition to your holiday dinner table. It definitely has a festive air about it!
Since having this salad, I have become a little obsessed with hazelnuts. I roast and peel large batches of them, so I have them at hand to throw into all kinds of salads or use in cookies. They have a distinctive flavor and are a nice change of pace from the more common almonds and walnuts. Start with this salad, and you might also find yourself going hazelnut crazy, too!
Recipe Note: You can easily roast the beets, but I admit to cheating and using those vacuum-packed cooked beets in a pinch. They taste great!

Print
Arugula, Beet, Orange and Avocado Salad with Hazelnuts
4 small cooked, peeled beets, cut into wedges (see note above)
1 large navel orange
½ small red onion, thinly sliced
1/3 cup hazelnuts, toasted, skinned and very roughly chopped
1 large Hass avocado, peeled and thinly sliced
2 tablespoons red wine vinegar or lemon juice
½ teaspoon Dijon mustard
3 tablespoons extra virgin olive oil
Salt and freshly ground black pepper, to taste
3 ounces baby arugula
Zest the orange and set the zest aside. Cut the top and bottom off the orange and cut off the peel, making sure to cut off all the white part.  Slice the orange crosswise into slices, then cut each slice in half.
In a medium bowl, combine the vinegar or lemon juice, Dijon mustard and orange zest. Whisk in the olive oil. Toss most of the dressing with the arugula, onion and beets, and place on a serving platter. Top with the orange slices, avocado and hazelnuts. Drizzle with the remaining dressing.
Serves 4 as a side dish