Jun 13, 2011
Strawberry Rhubarb Pie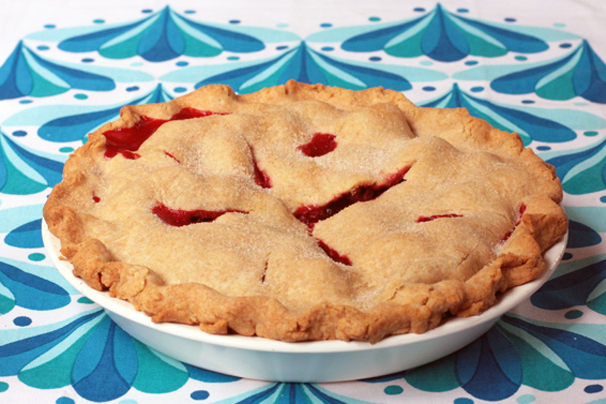 When rhubarb's in season, I dream about strawberry rhubarb pie. It seems like such a  simple and homey dessert, but if you don't overwhelm it with sugar, the tartness makes it seem more sophisticated somehow.
In this strawberry rhubarb pie, lemon juice and a bit of orange zest highlight the tartness, while cinnamon and allspice play off the sweet notes. It's the perfect balance.
This was the first time I tried a vegan version of my famous pie crust. I was worried that substituting soy milk for the regular milk in the recipe would change the crust, but it was just as delicious. It once again fooled several of my guests, who were convinced they were eating a rich butter crust until I let them in on the vegan secret.
Photo prop fun: thanks to my friend Pam for this super cool tea towel. Friends who give me table linens are the best!
Strawberry Rhubarb Pie
Filling:
2/3 to 3/4 cup sugar, depending on whether you want a "very tart" or "pretty tart" pie
3 tablespoons cornstarch
½ teaspoon cinnamon
Pinch allspice
¼ teaspoon salt
½ teaspoon orange zest
2 teaspoons lemon juice
3 cups strawberries, hulled and cut into large chunks
3 ½ cups rhubarb, cut into ½-inch slices
Crust:
1 1/3 cups all-purpose flour (see note below)
1 1/3 cups whole wheat pastry flour (see note below)
1 teaspoon salt
2/3 cup organic canola oil
6 tablespoons soy milk (regular flavor, not vanilla or unsweetened)
½ teaspoon sugar
Note: Measure the flour by pouring or gently spooning into your measuring cup – do not scoop the cup into the bag of flour!
Heat the oven to 400 degrees.
In a large bowl, combine the sugar, cornstarch, cinnamon, allspice, salt and orange zest. Add the lemon juice and fruit, stirring gently to combine.
Whisk the flour and salt in a medium mixing bowl. Pour the oil in a glass measuring cup and add the soy milk, without stirring. Pour this mixture into the flour and stir briefly, just until combined. Divide the dough in half and form two balls. Roll the pie crust out immediately; do not refrigerate this dough.
Place a 15″ piece of wax paper on your work surface, putting a few drops of water under the paper to keep it from sliding around. Put one ball on the paper and use your hands to press it into a 6-inch circle. Top with another piece of wax paper and roll it out with a rolling pin to a 12-inch circle (the edges may extend beyond the top and bottom of the wax paper slightly, but you can loosen it with a knife when you lift the dough.)  If your circle is uneven, simply tear off a piece from one part and add it to another – it's easy to make repairs, before or after the dough is in the pan.
Remove the top sheet and turn the dough over into a 9-inch pie pan, pressing to remove any air pockets. Pour in the filling. Roll out the second disc between fresh wax paper and place it on top of the pie. Fold the top crust under the bottom all the way around, and crimp the edges. Cut some slits in the top and sprinkle with the sugar.
Bake at 400 degrees for 10 minutes, then reduce the heat to 350 and bake about 50 minutes, until the crust is lightly golden and the filling is bubbling. Cool 4 or more hours before serving.