Mar 6, 2011
Black bean chili with butternut squash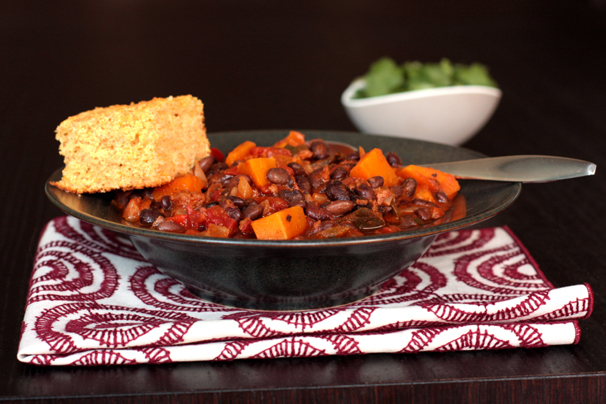 It's remarkable how much variety there can be just within the world of vegetarian chili. The last one I posted was dark and smoky, with chipotles, beer, and chocolate. This black bean chili is brighter and slightly sweet, but still has the requisite ass-kicking spiciness. And I love the way the butternut squash and the black beans play off each other – both color and flavor-wise.
I made this with seitan and loved it, but if you want a firmer texture, you can use a vegetarian beef product. I don't often go for the soy-based fake meat stuff, but Lightlife's Mexican-flavor "Smart Ground" works really well here. Or you can leave it out altogether – the beans and squash are the real stars of this chili.
The better the ingredients you use for this chili, the better it will be. Grind your own cumin seeds, use pure chile powders and track down Mexican oregano and you'll achieve black bean chili supremacy. I used Rancho Gordo's Midnight Black beans, and I'm sure that didn't hurt, either. Of course, that's not to say it won't still be delicious with regular ol' ground cumin, chili powder and oregano. It's just a matter of how crazy you want to get (me, I'm on the crazy end of the chili scale.)
Black Bean Chili with Butternut Squash
1 pound black beans, soaked overnight (or use the quick soak method)
2 tablespoons organic canola oil or high-oleic safflower oil
2 medium-large yellow onions, chopped
4 cloves garlic, minced
1 poblano pepper, chopped
1 red bell pepper, chopped
4 jalapeno peppers, minced
8 ounces minced seitan, or a 12-ounce package of vegetarian ground beef (see note above)
3 tablespoons chili powder (I used 2 tablespoons of ancho and 1 New Mexican)
1 teaspoon cayenne pepper
1 tablespoon ground cumin
1 1/2 teaspoons oregano, preferably Mexican
1/2 teaspoon salt
1/2 teaspoon freshly ground black pepper
1 28-ounce can diced tomatoes
3 cups chopped butternut squash (1/2-inch cubes)
1/3 cup chopped fresh cilantro
Put the black beans in a large pot and cover with cold water by 2 inches. Bring to a boil, reduce heat and simmer until tender, about 45 minutes. Drain, reserving cooking liquid.
Heat the oil in another heavy-bottomed pot. Add the onions, garlic, poblanos, bell peppers and jalapenos and cook for 5 minutes, stirring occasionally. Add the vegetarian beef or seitan along with all the spices, oregano, salt and pepper, and cook 2 minutes longer. Add the tomatoes, butternut squash and 4 cups of the reserved bean cooking liquid. Cook for 8 minutes, then add the black beans and cook until the squash is tender, about 20 minutes. Taste for salt and adjust as you'd like. (At this point, chili can be cooled then refrigerated until the next day – it will be even better then.) Stir in cilantro and serve.
Serves 6, with leftovers
Other recipes you might like: Smoky and Spicy Vegetarian Chili
If you like this post, please leave a comment. Or Tweet it, Like it, or otherwise share it. Thank you!