Feb 28, 2011
Whole wheat pasta with wild mushroom sauce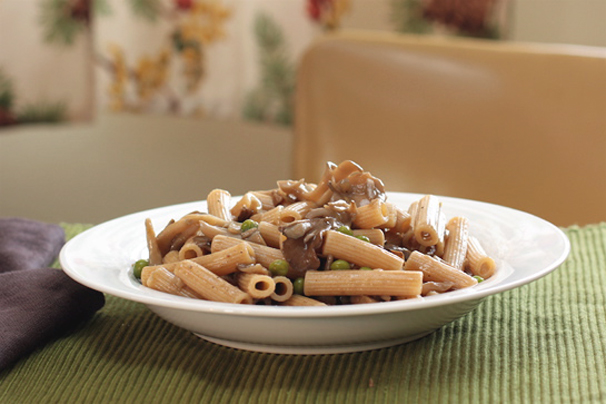 If you're a mushroom lover, you're in for a treat with this rustic pasta dish that features both dried and fresh mushrooms. "Earthy" doesn't begin to describe the smell of the mushrooms as they cook down. "Woodsy" and "mossy" are probably the best words – if I closed my eyes, my kitchen turned into a deep, dark forest. The smell had us swooning!
I'm happy to see that cultivated Hen of the Woods (maitake) mushrooms are becoming more readily available. They had them in little packages at one of my health food haunts (Mother Earth in Kingston, NY). Finding them at your local farmer's market is even better. And if you can't track them down, oyster or even shiitake mushrooms would be fine substitutes.
Now, let me address the controversial subject of peas. My tasters were divided on whether they should be included in this dish. One person felt strongly that the peas took away from her nearly-religious mushroom experience. Another liked the dash of color and the contrasting flavor. So you're going to have to decide which camp you fall into. Peas or no peas, I think you'll be glad to chow down on this deeply-flavored pasta.
Whole Wheat Pasta with Wild Mushroom Sauce
1 ounce dried porcini mushrooms
3 cups boiling water
2 tablespoons extra virgin olive oil
3 medium shallots, chopped
3 cloves garlic, minced
10 ounces button or cremini mushrooms, sliced
14 ounces oyster or hen of the woods mushrooms, trimmed and torn into pieces
1/2 teaspoon salt
1 1/2 tablespoons all purpose flour
2/3 cup dry white wine
1 cup frozen peas (optional)
2 tablespoons chopped flat-leaf parsley
1/2 teaspoon fresh lemon zest
Freshly ground pepper
1 pound whole wheat penne rigate
Place the dried mushrooms in a measuring cup and cover with 2 1/2 cups boiling water. Let stand for 25-30 minutes. Scoop out the mushrooms with a slotted spoon, then rinse and coarsely chop. Strain the soaking liquid using cheesecloth (or if you don't have any, just pour out the soaking liquid but leave the bottom part of the liquid which contains the grit.)  Reserve 1 1/2 cups of the soaking liquid.
Heat the olive oil over medium heat in a large skillet. Add the shallots and cook for 3 minutes, stirring constantly. Add the garlic and cook for 30 seconds longer. Add the fresh mushrooms and 1/2 teaspoon salt. Cook for about 5 minutes, stirring. Add the flour and cook for a minute or two. Add the porcinis and wine, and cook until the wine is nearly evaporated. Add the mushroom liquid, bring to a simmer over medium-high heat, and simmer for about 20 minutes. Add the peas (if using) for the last two minutes of cooking time. Stir in the parsley and lemon zest, and season with pepper to taste.
Serves 4-6
If you like this recipe,  please "Like" it, Tweet it or share it using the buttons below. Thanks!