Feb 14, 2011
Blueberry Oat Muffins – Vegan or Not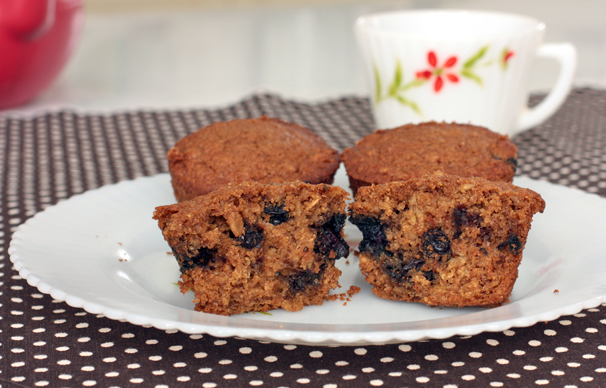 These were inspired by the oatmeal muffin recipe on the cool vegan blog It Ain't Meat, Babe. I added the blueberries, used whole wheat pastry flour instead of white, and a little less oil. I didn't have any ground flax meal on hand today, so I used an egg. But the vegan version is great, too (I've provided that option in the recipe).
Muffins are one place where I think whole wheat pastry flour produces a much more satisfying result. Now when I taste muffins made with white flour, they just taste bland to me. At first glance, people assume these are bran muffins because of their deep color. But the texture is much lighter and moister than bran muffins, with a pronounced oatiness. And I love that they aren't overly sweet – muffins needn't always taste like dessert!
Blueberry-Oat Muffins  (with vegan option)
1 cup old-fashioned rolled oats
1 cup soy or almond milk mixed with 1 teaspoon white vinegar
1/3 cup organic canola oil
1/2 cup packed dark brown sugar
2 tablespoons maple syrup
1 egg, or 1 tablespoon ground flax seeds whisked vigorously with 3 tablespoons water
1 teaspoon vanilla extract
1 1/4 cups whole wheat pastry flour (note: use only 1 1/8 cups if using flax instead of egg)
1 teaspoon of baking powder
1 teaspoon baking soda
1 teaspoon cinnamon
1/2 teaspoon salt
1 cup fresh blueberries
Heat the oven to 400 degrees. Spray a muffin pan with organic canola spray (Spectrum now makes a nice baking spray with flour), or use paper liners.
Combine oats and soy milk and let stand for 15-20 minutes. Whisk in the oil, brown sugar, canola, maple syrup, egg/flax and vanilla.
In another bowl, combine the dry ingredients, then stir into the wet. Fold in the blueberries.
Fill muffin cups about ¾ full and bake for 20 minutes. Let cool in the pan for 10 minutes before removing.