Dec 6, 2010
Smoky and spicy vegetarian chili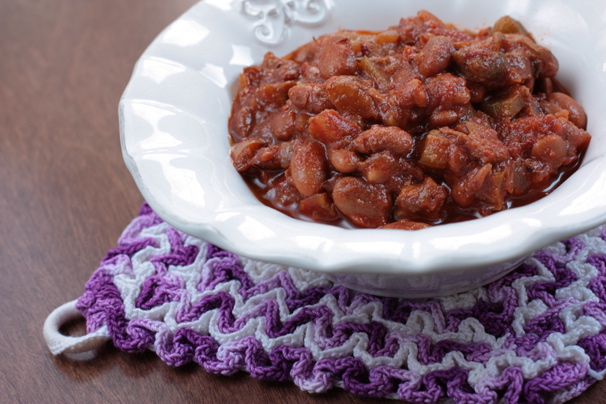 It's disheartening to read most of the vegetarian chili recipes out there. Many of them are bean and vegetable stews with little depth of flavor.  I wanted to create a vegetarian chili that is deeply flavored with real chiles, and spicy enough to make smoke come out of your ears.  I think I've finally cracked the code with the recipe below. It includes six types of peppers, including smoky chipotles, along with pan-charred onions and serranos, beer and a hint of chocolate – resulting in a chili that is intense, complex and spicy.
Of course, you have to be dedicated to make this, as it involves making beans from scratch, and obtaining ingredients like dried ancho and guajillo chiles. But trust me, it's worth it – and I've provided some links for mail-order sources for peppers, for those of you who can't easily find them locally. Do make sure your ground cumin is fresh – this won't be as good if your jar of cumin has been sitting in the cabinet for a year or more. Grinding your own from cumin seeds is best of all.
Photo prop fun: the purple pot holder is courtesy of Claire Elton, who recently gave me a pile of cool vintage stuff she had stashed away and forgotten about, until I mentioned my quest for props. Thanks again, Claire!
Smoky and Spicy Vegetarian Chili
1 ¼ cups dried pinto beans
1 large or 2 small dried ancho chiles
1 dried guajillo chile (or substitute pasilla or more ancho)
12 oz. bottle of beer, divided
1 very large white (or yellow) onion, thickly sliced
4 fresh Serrano peppers (or substitute jalapenos)
2 tablespoons canola or high-oleic safflower oil
4 cloves garlic
1 large stalk celery, diced
2 medium green bell peppers, chopped
1 tablespoon cumin
½ teaspoon freshly ground black pepper
1 teaspoon dried oregano leaves, preferably Mexican
1 package chicken-style seitan, well chopped (or substitute regular seitan)
1 4-ounce can chopped fire-roasted green chiles, preferably Hatch
1 chipotle pepper (from canned chipotles in adobo), minced
2 ½ cups crushed tomatoes (about ¾ of a 28-oz can)
½ teaspoon salt
1 ½ cups reserved bean cooking liquid
½ ounce bittersweet chocolate
Fat-free sour cream (or vegan sour cream) and chopped red onions, for garnish
Soak the beans, or use the quick-soak method. Drain, cover well with fresh cold water in a saucepan. Bring to a boil, reduce heat and simmer until tender, about 1 hour.  Drain, reserving cooking liquid.
Heat a cast-iron pan until very hot. Add the dried chiles and press down with a spatula and cook until the peppers begin to soften and are beginning to blacken, about 1 minute. Remove from pan, cut off the stems and shake out the seeds. Tear the chiles into pieces and place in a blender along with 1 cup of the beer, and puree until smooth.
Re-heat the cast-iron pan over high heat and add the onion slices and Serrano peppers. Cook for about 10 minutes, turning the onions once, until they are well charred and soft.  Remove the onions and chop. Cut the stems off the serranos and chop. (For a milder dish, slice the peppers lengthwise and remove the seeds before chopping.)
Heat the oil over medium heat in a large heavy pot or dutch oven. Add the garlic, celery and bell peppers and sauté for about 10 minutes. Add the prepared onions and serranos, cumin, black pepper and oregano and cook for 2 minutes. Add the seitan, fire-roasted green chiles, chipotle and chile puree and cook 2 minutes more. Add the remaining beer, tomatoes, bean cooking liquid and salt. Bring to a boil, reduce heat and simmer for 30 minutes. Add cooked beans and cook 10 minutes more. Stir in chocolate and serve, topping with fat-free sour cream and chopped onions if you'd like.
Serves 6-8
Here are a couple of other vegetarian chili recipes that break the usual mold:
Vegetarian Chili from Herbivoracious
Pierce Street Vegetarian Chili from 101 Cookbooks
And if you're a meat eater, here's an astounding chicken cashew chili (I tried this – wow!)