Jun 3, 2010
Vegan lasagna bechamel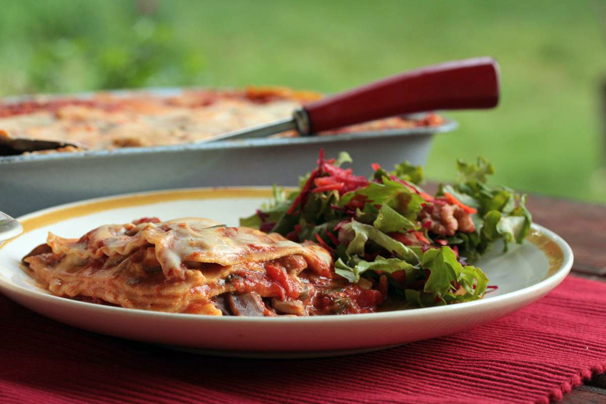 I grew up in a town that was overwhelmingly Italian-American.  Every Sunday we'd go to the local red sauce joint and I would often get lasagna.  It was oozing with mozzarella and ricotta, and was layered with a thick meat sauce.  Yum. (Once again, it's no wonder I wound up with heart disease.)  In recent years, I've been searching for a way to get my lasagna fix without clogging my arteries any further. I usually make it with fat-free cheese, and it comes out surprisingly well.
But in Italy, traditional lasagna is not made with cheese, but with a béchamel sauce – a white sauce made from butter, flour and milk, flavored with nutmeg. So when I saw a recipe for a vegan béchamel sauce over on Chocolate & Zucchini, I saw the perfect opportunity to create a cheeseless lasagna. [UPDATE: after some more research, I found that classic "lasagna al forno" does often contain parmagiano reggiano in addition to bechamel, but not ricotta or mozzarella.]
The result was creamy and rich tasting, although totally different than the lasagna of my youth. Admittedly, this recipe uses 9 tablespoons of oil, which is a lot – but it makes a big pan, and it's way more heart-healthy than eating all that cheese.  For the vegetables, I used mushrooms and Swiss chard. You could try something different, but I recommend sticking with some kind of greens, as they contrast the cream sauce nicely.
The lasagna was even better reheated the next day – the tomato sauce and the béchamel melded together into creamy pink deliciousness.  Don't be intimidated by the long list of ingredients and instructions. This isn't difficult, and you can make the marinara sauce and sautéed vegetables a day in advance if you'd like.  Trust me, it's all worth the effort.
Vegan Lasagna with Béchamel Sauce
For the marinara sauce (or use 4 1/2 c. of your favorite marinara sauce)
2 tablespoons extra virgin olive oil
4 cloves garlic, minced
1 28-ounce can plum tomatoes in puree (undrained), chopped or squeezed with your hands
1 28-ounce can crushed tomatoes
salt and pepper to taste
1/4 cup chopped fresh basil
For the vegetables:
2 tablespoons extra virgin olive oil
1 1/2 pounds mushrooms (I used a mixture of cremini, oyster and shiitake), sliced
1 large bunch of green Swiss chard, center stems removed and leaves well chopped
For béchamel sauce:
5 tablespoons organic canola oil
8 tablespoons all-purpose flour
4 cups unsweetened almond milk (make sure it's unsweetened)
1 teaspoon salt
1/4 teaspoon freshly grated nutmeg
Black pepper to taste
12 whole wheat lasagna noodles (or 16 if you're using the smaller variety, such as Bionaturae brand)
To make the marinara sauce, heat the 2 T. oil in a large pot. Add the garlic and cook for 2 minutes.  Add all the tomatoes. Season with salt and pepper to taste. Bring to a boil, reduce heat and simmer for 25 minutes. Add the basil and remove from heat.
To prepare the vegetables, heat 2 T. oil in a large skillet over medium heat. Add the mushrooms and cook for 5 minutes.  Remove to a bowl.  Add the Swiss chard to the pan and cook until tender, about 3 minutes. (You can add a little additional oil to the pan if it seems dry after removing the mushrooms.)  Combine the mushrooms and chard and set aside.
Prepare the béchamel sauce soon before assembling the lasagna. First, heat the oil in a medium saucepan over medium heat. Stir in the flour with a wooden spoon, and cook for 2-3 minutes, stirring constantly. You don't want it to turn a color.  Remove the pan from the heat and add a cup of the almond milk.  Use a whisk to make it smooth, then return the pan to the burner and add the rest of the almond milk gradually, whisking with each addition. Cook for about 4-5 minutes, whisking constantly, until thick and velvety. Remove from the heat and season with salt, pepper and nutmeg.
Heat the oven to 350 degrees.
Cook the lasagna noodles according to the package directions and drain. Place 1/2 cup of marinara sauce in the bottom of a 13 x 9″ pan. Cover with 3 lasagna noodles, and top with 1 cup of béchamel sauce, 1 cup of marinara and a third of the vegetable mixture. Repeat with a second and third layer of noodles, sauces and vegetables. Finish with a final layer of noodles, and top with a cup of marinara and carefully spread about 3/4 cup of béchamel over the top.
Cover with foil and bake for 30 minutes. Remove the foil and bake for 10 minutes more.  Let sit for 5 minutes before serving.