Apr 27, 2010
Potato salad with caramelized onions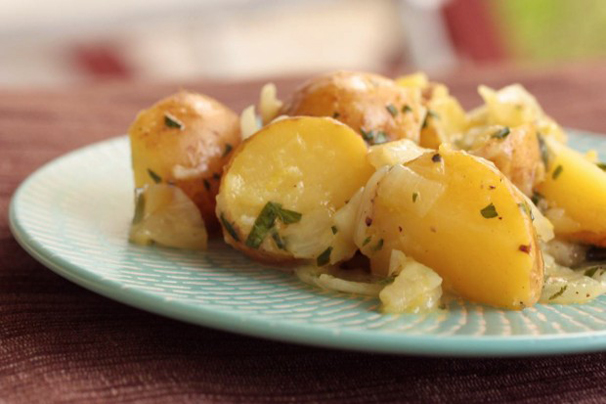 They say my heart problems are hereditary.  However, I'm sure eating things like potato salad swimming in mayonnaise and loaded with hard boiled eggs didn'thelp matters. Today I still love potato salad, but limit myself to vegan versions made with vinaigrette. (In fact, just looking at mayo-based salads can turn my stomach – almost croaking from clogged arteries will do that to you.)  This salad is unusual in that it contains silky soft caramelized onions rather than crunchy ones. It's addictive, simple to make and perfect for those summer barbecues. However, I couldn't wait until summer.
The chives are optional, but I was so excited to find wild chives growing in my yard that I just had to throw them in.
Potato Salad with Caramelized Onions
2 1/2 pounds new or fingerling potatoes, scrubbed and cut into bite-size chunks
6 tablespoons extra virgin olive oil
4 cups chopped yellow onions (about 4 medium)
Zest of two lemons
1/4 cup freshly squeezed lemon juice
1 teaspoon dijon mustard (use gluten-free variety if you prefer)
1 tablespoon chopped flat-leaf parsley
1 tablespoon minced chives
Salt and freshly ground black pepper to taste
Bring a pot of water to a boil and add the potatoes. Cook until just tender when pierced with a knife, about 15 minutes.
Heat the olive oil over medium-low heat in a large skillet. Add the onions and cook until soft and golden, about 30 minutes.
Pour the onions and all the oil over the warm potatoes. Add remaining ingredients and stir gently. Add salt and pepper to taste, plus extra lemon juice if you love lemon like I do.  Serve at room temperature.
Serves 6