Mar 10, 2010
Vegan tacos with greens and sweet potatoes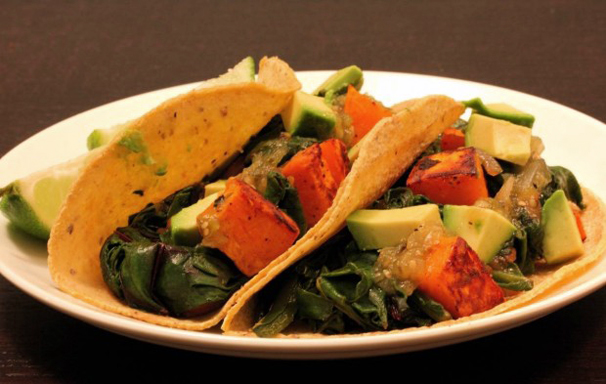 I have to thank my pal Efrem for the inspired idea of using beet greens as a taco filling. He's been telling me about it for years, and tonight I finally took the plunge. Ef usually adds queso fresco to his green tacos, but for my vegan version I went with pinto beans, roasted sweet potatoes and avocado – plus tomatillo salsa and a generous squirt of lime juice to prevent the "sweet" part of the equation from being too much. These would be equally good with black beans, and might be even better with butternut squash instead of sweet potatoes. I'll try that next time. Oh, and don't let the longish list of ingredients scare you – I made these in under 30 minutes start to finish.
Tacos with Greens and Sweet Potatoes
Makes 6 tacos – serves 2 to 3
Beet greens from two bunches of beets (or use 1 large bunch swiss chard)
1 medium yellow onion, sliced
2 garlic cloves, sliced
1 poblano pepper, sliced into thin strips, then cut into 1-inch pieces (optional)
4 teaspoons canola oil, divided
1 sweet potato, peeled and cut into 1/2-inch cubes
1/4 – 1/2 teaspoons chili powder, preferably ancho or New Mexico
Salt and freshly ground black pepper to taste
1 can organic pinto beans, drained (I use Eden Organic, the only BPA free cans)
1 chipotle chili (from canned chipotles in adobo), minced
1 avocado, diced
1 lime, cut into wedges
6 corn tortillas
Tomatillo salsa of choice (I used Frontera; homemade would be even better)
Preheat the oven to 400 degrees. Place the sweet potato cubes on a baking sheet, toss with 2 t. oil and sprinkle with chili powder, salt and pepper to taste. Roast until nicely browned, about 20 minutes.
Meanwhile, heat the remaining oil in a large skillet. Add the onions, garlic and poblano pepper (if using) and saute over medium heat until well browned, about 10-12 minutes. Add the greens and cook about 5 minutes, until the greens are completely wilted and tender.
Put the drained beans in a small saucepan with the chipotle pepper and 1/4 c. water, and gently simmer for 3 to 4 minutes.
Heat the corn tortillas by one of these methods. Fill each tortilla with a little beans, greens, sweet potatoes and avocado, topping with salsa and lime juice at the end.