Mar 29, 2010
Cranberry bean and escarole stew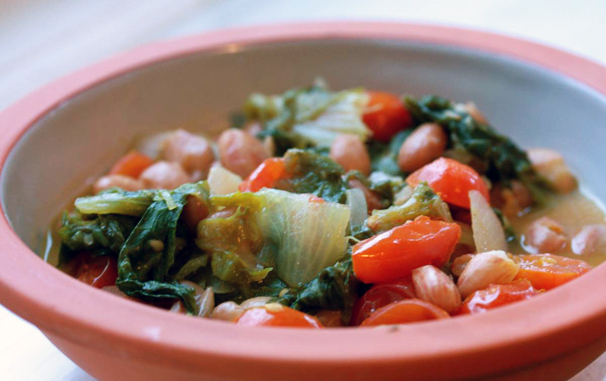 Scarola e Fagiole, typical of the Campania region of Italy, is often referred to as "peasant food" – although I feel anything but deprived when eating it. The combination of beans and greens is so satisfying, it's no wonder I find myself eating some variation on it at least once a week. Chickpeas and chard, appaloosa beans and kale, cannellini and broccoli rabe – the possibilites are nearly endless.
Sometimes I mix my beans & greens with pasta or serve it with roasted potatoes. But tonight, all I needed was a nice hunk of crusty whole grain bread (Balthazar dark rye made with beer – yum.)  And needless to say, beans and greens are both uber-nutritious. This is virtue in a bowl!
For a more traditional version of Scarola e Fagiole, leave out the cherry tomatoes, although I really like it this way, too. The sharpness of the tomatoes contrasts nicely with the earthiness of the beans.
Cranberry Bean and Escarole Stew  with Cherry Tomatoes
½ pound dried cranberry or cannellini beans, soaked overnight, or quick soaked
½ teaspoon salt
1 yellow onion, chopped
4 cloves garlic, minced
½ teaspoon crushed red pepper flakes
2 heads escarole, chopped
1 cup vegetable broth (use a gluten-free variety if you prefer)
1 cup bean cooking liquid, reserved from cranberry beans
2 tablespoons chopped fresh parsley
1 pint cherry or grape tomatoes, halved
Salt and freshly ground black pepper
Place the soaked beans in a large pot with water to cover by 3 inches. Bring to a boil, lower heat and simmer until the beans are tender, about an hour depending on the age of your beans. Add salt near the end of the cooking time. Hold the beans in their "pot liquor" until you are ready to use them. Then drain, reserving 1 cup of liquid.
Heat the olive oil over medium heat in a large deep skillet or dutch oven. Add the onion, garlic and red pepper flakes and sauté for 10 minutes, until the onion begins to brown. Add the escarole and sauté for 5 minutes more. Add the beans and remaining ingredients.  Bring to a boil, then reduce heat and simmer, partially covered, for 20 minutes. Add more broth if the stew starts to get dry. Season to taste with salt and pepper.
Serves 4.