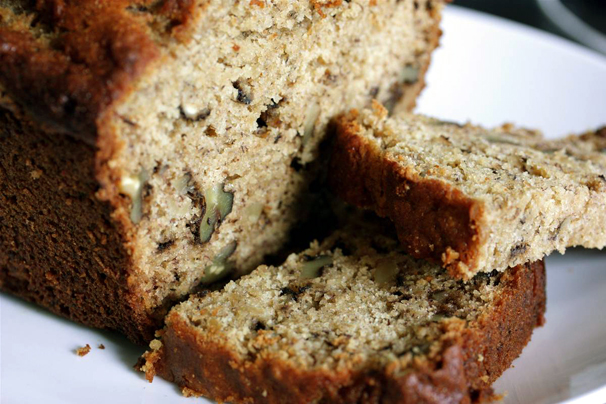 Here's an update of a post from 2010 – I wanted to share it again because I've improved on the recipe (but not the slightly crappy old photo, sadly!) I've reduced the amount of sugar a bit, and switched to coconut sugar. I also used a mix of walnuts and pecans this time, and added some orange juice. The changes made a nice difference.
"Lightened" versions of old favorites rarely live up to expectations. No, I'm not talking about Paul Anka singing Nirvana—I'm talking about banana bread.  I've been searching for a great low fat, whole grain version for years. One that's not rubbery, dry or overly dense. I had almost given up, when I saw a recipe that suggested combining yogurt and bananas with baking soda. I think the reaction between the soda and yogurt improves the rising and the texture. After a lot of experimentation with that concept, I hit on the magic formula.
This bread is sweet, moist and banana-y, with a nice crumb. No one would ever guess it was made with whole wheat flour and very little oil. In fact, I think it's as good as ones made with a whole stick of butter. Of course, I loaded it up with walnuts which add extra fat – but nuts are good for your heart. So I pronounce this to be heart-healthy banana bread that doesn't taste like a compromise. My quest is over!
Two tips: Don't use anything but extremely ripe bananas here (black skin!). And this bread is best the day it's baked or the following day. So eat it up. Something tells me you won't have a problem with that.

Print

Ultimate Healthy Banana Bread

1 1/2 cups well-mashed very ripe bananas (about 3 large)
1/2 cup nonfat yogurt – if using Greek yogurt, use a bit less and thin with milk
1 tsp baking soda
2 egg whites
2 tablespoons freshly squeezed orange juice
2/3 cup coconut sugar
1/4 cup organic high-oleic, expeller-pressed safflower oil
1 1/4 teaspoons vanilla
2 cups whole wheat pastry flour
1 teaspoon baking powder
½ teaspoon cinnamon
½  teaspoon salt
2/3 cup chopped walnuts
1/3 cup chopped pecans

Mix the bananas, yogurt and baking soda in a small bowl and let sit for five minutes. Add the egg whites, orange juice, sugar, oil and vanilla and mix very well. In another bowl, mix the flour, baking powder, cinnamon and salt. Add to the wet ingredients, stirring just until blended. Fold in the nuts.

Heat the oven to 350 degrees. Lightly coat a 9 x 5" loaf pan with oil, and fill with the batter. Bake for 55-60 minutes, until a knife inserted in the center comes out clean.