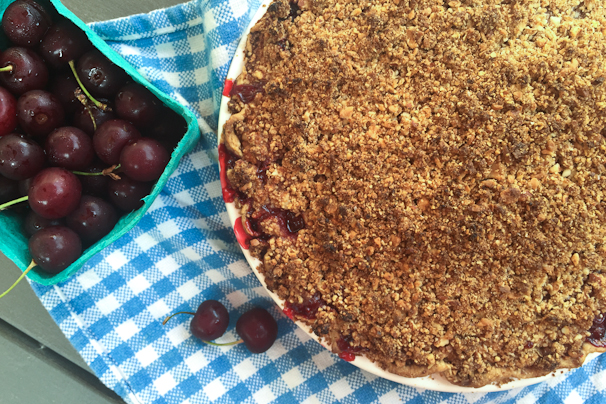 To prepare for my once-a-year sour cherry pie, I made a special trip into the city to try to find organic sour cherries. Alas, there were no organic ones to be found at the Union Square greenmarket, but I scored some that they claimed were "minimally sprayed" – probably a crock but I bought them anyway. If it's a choice between that and no cherry pie, I'll turn a blind eye this one time.  And the season for tart cherries is so short, I had to act fast. (Don't even think of making this with sweet cherries – it's not the same thing at all.)
I broke from tradition a bit this year by doing a crumb top crust. This recipe is adapted from from Melissa Murphy's excellent The Sweet Melissa Baking Book, although I found it on Smitten Kitchen.  I made a few small changes:
More cherries – the amount specified did not seem like enough.
A different bottom crust and slighly-adapted almond crumb topping, to veganize.
Slightly less sugar in the topping.
No pre-baking of the bottom crust – I swear my vegan crust doesn't get soggy!
The result was outstanding. There's just nothing as sublime as biting into a piece of sour cherry pie – first you're hit with the sweetness then you bite into the cherry and …wow! By the way, I don't know why people insist on putting almond extract in cherry pies – why would you want to interfere with the perfect taste of this perfect fruit?
Vegan Sour Cherry Pie with Almond-Oat Crumble
For the bottom crust:
1 1/2 cups flour, sifted before measuring* (I recommend half white flour, half whole wheat pastry flour)
1/2 teaspoon salt, slightly rounded
1/4 cup + 2 tablespoons organic high-oleic safflower oil
3 tablespoons non-dairy milk (I used Pacific Seven-Grain milk)
For the almond crumble:
2/3 cup rolled oats (not quick) ground in a food processor
1/2 cup whole wheat pastry flour
1/3 cup brown sugar
1/4 teaspoon ground cinnamon
1/4 teaspoon salt
3/4 cup raw whole almonds, coarsely ground in a food processor
2 tablespoons cold Earth Balance margarine, cut into pieces
2 1/2 tablespoons organic high-oleic safflower oil
For the sour cherry filling:
3/4 cup sugar
3 1/2 tablespoons cornstarch
Pinch salt
2 1/2 quarts fresh sour cherries, pitted, with juice
Heat the oven to 375.
Almond crumble: Grind the oats well in a food processor. Add the flour, sugar, cinnamon, salt and almonds. Process until the nuts are almost ground but still crumbly (not all the way to a fine grind.)  Place in a bowl, add the Earth Balance and drizzle on the oil. Mix with your fingers by pinching them together. Sprinkle with 1 or 2 teaspoons of water, and combine again lightly with your fingers until the mixture is coarse and crumbly.
Cherry filling: In a large bowl, mix the cherries with the sugar, cornstarch and salt.
Bottom crust (do not prepare in advance): Mix the flour and salt in a bowl.  Place the oil in a glass measuring cup, then add the milk, without stirring. Add to the flour mixture and combine quickly. Roll out between two pieces of wax paper, until it is about 12 inches in diameter. Remove the top sheet, and turn the crust over into a 9-inch pie plate. Remove the second sheet of wax paper. Crimp the edges, using the thumb and forefinger of one hand, and the index finger of the other hand.
Assembling the pie: Pour the cherries, including the liquid, into the pie pan lined with the bottom crust. (If your quarts of cherries were generous, you may end up with a dozen or so more cherries than you can fit – don't force it.)  Sprinkle the almond crumble over the cherries. Place the pie plate on the oven rack, with a piece of foil on the rack below. Bake for about 1 hour, or until the juices are bubbling and thick. Cool on a rack to room temperature before serving.
* If you don't have a sifter, spoon the flour lightly into the measuring cup.  Don't scoop it – the measurement will be totally different.