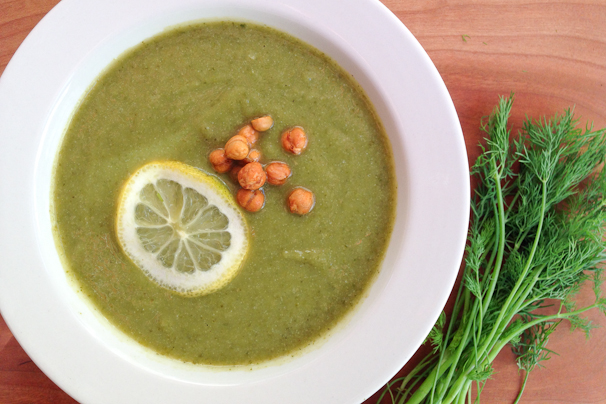 The Creamy Cauliflower Soup With Greens from Martha Stewart Living has turned out to be a recipe I go back and play with over and over. My last experiment with it was to add white beans, which makes it a heartier soup. This time I wanted to keep it light but add a little variety. So I added squash to the cauliflower and greens, and some Meyer lemon juice to brighten up the flavor at the end.
Besides being pure vegetable deliciousness in a bowl, this soup is a godsend for me right now, because I'm on a serious weight loss mission, and there are only about 60 calories in each cup. I find that it's perfect for lunch at work, along with some kind of protein (I'm trying to eat lots of protein at every meal and in between!)
Note that I've made this with both kale and collard greens, and I'm now coming down on the side of collards. Especially when combined with the squash, they lend a nice sweetness to the soup.
The soup seemed to require a good amount of salt – add it gradually and see what you think. I would normally top this soup with homemade whole wheat croutons and a drizzle of olive oil. But right now, I'm just throwing on a few crunchy roasted chickpeas (for store-bought, I like the Pulse and Chic-a-Peas brands). They add fiber and protein – and of course, a few extra calories, but the crunchy goodness is worth it.
This recipe makes a very large batch of soup, because it's something you'll want to have around, or freeze. And you can have a ton of it, guilt-free. Yay.

Print
Cauliflower, Squash and Collard Green Soup
1 tablespoon extra-virgin olive oil
6 cloves garlic, roughly chopped
2 leeks, white and light green parts cleaned and chopped
1 medium red onion, chopped
1 medium-large zucchini, roughly chopped
1 medium-large yellow squash, roughly chopped
Two medium heads cauliflower, cut into florets (8-10 cups)
2 bunches collard greens, stems removed, leaves chopped (about 10-12 cups)
1 teaspoon fresh thyme leaves
¼ cup chopped fresh dill
4 cups vegetable broth (I recommend Imagine's No Chicken Broth)
5 cups water
1/2 to 1 teaspoon salt
Freshly ground black pepper
1 tablespoon fresh lemon juice, preferably Meyer lemon juice
Roasted chickpeas, for garnish (optional)
Heat the olive oil in a very large Dutch oven over medium heat. Add leeks, onions and garlic, and sauté for 5-7 minutes, until starting to get soft.
Add the zucchini and yellow squash, and sauté for 5 minutes longer. Add the cauliflower, greens, herbs, vegetable broth, water, ½ teaspoon salt and a generous amount of pepper.
Bring to a boil, then reduce heat and simmer, partially covered, for 25 minutes or until the vegetables are quite soft. Season to taste with additional salt, then stir in lemon juice.
Puree with an immersion blender (or a food processor). Reheat as necessary and serve.
Serves 8 (with 2-cup servings)