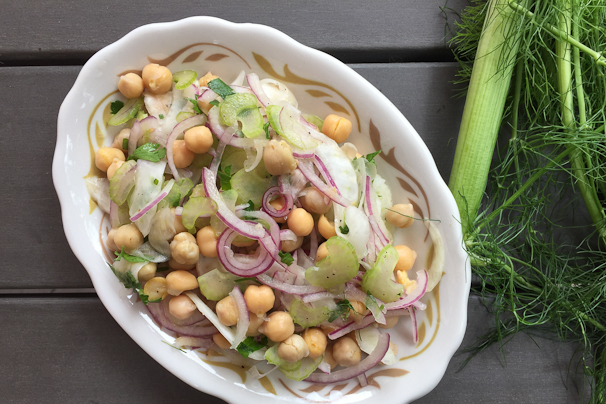 Here's another one of my no-recipe recipes. I could chalk it up to being a lazy blogger, but truth be told, quantities aren't that important here. This is a universally appealing dish, as it's both vegan and gluten-free, and provides some nice protein. I must give credit to my husband Tim for this fresh and bright salad, as he makes it often to take to his art studio for lunch.
Chickpea and Fennel Salad
This is the basic method:
Put some chickpeas in a bowl (I used 2 cans – be sure to look for BPA-free).
Add thinly sliced (with a mandoline) celery, fennel and red onion to your liking.
Throw in some flat-leaf parsley.
Squeeze on the juice of a lemon, and drizzle on a bit of olive oil.
If you're feeling fancy, garnish with fennel fronds.
Salt and pepper, and you're done.
You could build on this simple salad by adding orange segments, roasted red peppers, olives or cherry tomatoes. Let me know what you come up with!