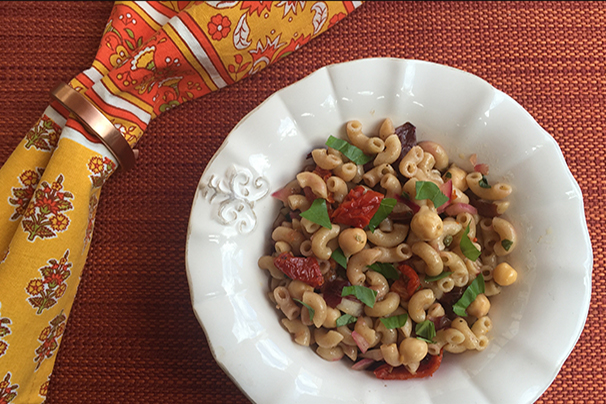 If you're bored by the usual bland pasta salads, this one's for you – especially if you're a vinegar freak (I know I'm not the only one!)
My first step on this pasta salad makeover project was to add some nutrition, in the form of radicchio (loads of vitamins) and chickpeas (fiber & protein). With these additions, and the use of whole-grain pasta, this dish is pretty guilt-free.
Now, for the taste. Because I was going for a Mediterranean theme, I used sun dried tomatoes, which I have grown to love even more since discovering the type that are neither oil-packed or dried, but are soft and ready to use. I found them randomly at a store in the Catskills, and then recently ordered more on Etsy.
I wanted the salad to be super tangy, so I threw in some capers and quickly pickled a red onion, then used some of – well, a lot of – the pickling vinegar in the salad.
I liked this so much that I've made it two weeks in a row now. It could easily become a weekly addiction this summer. Hey, there are worse things to be addicted to than healthy pasta salad.

Print
Pasta Salad with Sun-dried Tomatoes, Chickpeas and Pickled Onions
1 medium red onion, very thinly sliced – preferably with a mandoline
2/3 cup red wine vinegar (or more if needed to cover the onion)
1 teaspoon sugar or agave
Pinch salt
1 can chickpeas, drained and rinsed
2/3 cup chopped sun-dried tomatoes (oil-packed or other ready-to-use, see note above)
1 small head radicchio (Treviso is nice here) cored and diced (about 1½ cups)
2 tablespoons capers, rinsed
3-4 tablespoons chopped fresh basil
¼ teaspoon salt, or more to taste
Freshly ground black pepper
1 lb. whole grain elbow pasta
¼ cup extra-virgin olive oil
Place the onion in a bowl and pour on the vinegar, agave and a pinch of salt. Let sit for 1-2 hours. Spoon out the onions (reserving vinegar) and chop.
In a large bowl, combine the pickled onions, chickpeas, sun dried tomatoes, radicchio, capers, basil, salt and pepper.
Cook pasta until al dente. Drain and rinse with cold water, draining very well the second time. Place the pasta on top of the ingredients in the bowl, then pour on olive oil and 1/4 to ½ cup of the vinegar from the pickled onions (I like it with ½ cup, but you may want to ease into it.) Stir all the ingredients together.
Best served within a few hours, as refrigeration tends to dull the flavors a bit (but still good!)
Serves 8-10 as a side dish