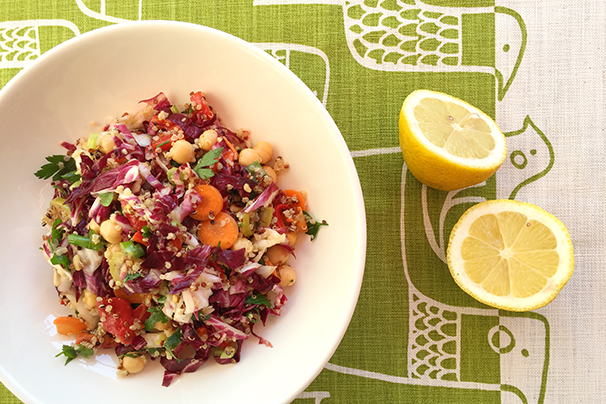 If I have one more quinoa salad that has nuts and dried fruit, or black beans and corn, just shoot me (and yes, I'm sure I have some of those on this very blog!). I just feel like I always know exactly what those salads are going to taste like before I try them. Plus they can be pretty carb-heavy when quinoa is the main ingredient.
I've been trying to pack more vegetables into every meal, so today I flipped the usual quinoa salad equation: this one is mostly vegetables; the quinoa plays more of a supporting role. For the vegetables, I went with radicchio, carrots, roasted red peppers and scallions. With protein in the form of chickpeas and pine nuts, plus olives and a tangy lemon-mustard vinaigrette, this dish is both nutritious and unexpected. My faith in quinoa salads has been restored!
P.S. This makes a large batch, so it's a perfect dish for a party, or for lunches all week. Feel free to add more quinoa to stretch it even further – it's good that way, too.

Print
Quinoa Salad with Vegetables and Chickpeas
2 cups cooked quinoa
1 can organic chickpeas, drained and rinsed
1 large head radicchio, cored and thinly sliced
3 scallions, sliced
6-8 large pitted green or black olives, sliced
2 carrots, thinly sliced, preferably with a mandoline
1 stalk celery, halved lengthwise and thinly sliced
3 large roasted red peppers, chopped (homemade better but jarred ok, too)
2-3 tablespoons roughly chopped flat-leaf parsley
¼ cup pine nuts, toasted (can substitute chopped toasted almonds)
Dressing:
1 tablespoons Dijon mustard
¼ cup freshly squeezed lemon juice
zest of one organic lemon
¼ teaspoon salt, or more to taste
Generous amount of freshly ground black pepper
2 tablespoons extra-virgin olive oil
Place the salad ingredients in a large bowl. Whisk together the mustard, lemon juice, zest, salt and pepper, then slowly whisk in the olive oil. Pour the dressing over the salad and mix well. Serve at room temperature.
Serves 8-12 as a side dish