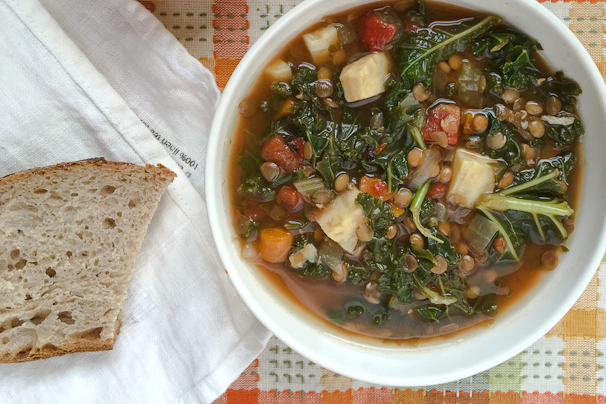 Today's delicious vegan soup recipe came about as a result of feedback from some of my readers. Dozens of people have written to me regarding Dr. Caldwell Esselstyn's work, which you may be familiar with through his book Prevent and Reverse Heart Disease, his son Rip's book, The Engine 2 Diet, or the documentary film Forks Over Knives. Dr. Esselstyn advocates a totally plant-based, vegan diet, with no oil whatsoever. The claim is that with this diet, the damage to arteries due to heart disease can be undone. It sounds amazing and the evidence is compelling in many ways – but keep in mind that there are skeptics, like this one: http://www.sciencebasedmedicine.org/bill-clintons-diet/
The readers who've contacted me ask why in the world I continue to use oil in my recipes when you can reverse heart disease through an oil-free, vegan diet. When I hear someone say they'd rather eat bacon even if it means they'll live a shorter life, I'm infuriated. But here I am, saying I'm not sure I want to live olive oil-free, even if I kick the bucket sooner than I otherwise would (hopefully it will just be the difference between age 97 and 98!)
Besides the fact that I love olive oil, one of the big hurdles is travel. I can't imagine going to Italy, Spain or Greece and having to avoid oil – since eating in Italy is about my favorite thing in the world. Even in cities where vegan food is plentiful, like San Francisco or Portland, enjoying restaurants is difficult, if not impossible. If I do ever decide to adopt this diet, I will most certainly ditch it when traveling.
I feel good about the fact that I eat tons of leafy greens, beans and whole grains, I avoid red meat and processed foods of all kinds, and I consume very little dairy. Just maintaining this diet is challenging enough – having to be "plant perfect" would probably send me over the edge. I'm about 90% of the way there … and that's ok with me.
Having said all that, some dishes can be made oil-free with no sacrifice in flavor – so I figure why not cut out a little where you can. Which brings me to today's soup. I think of this as my late winter detox soup: it's full of nothing but vegetables and legumes. It's delicious, and doesn't contain a drop of oil!

Print
Lentil, Kale and Sweet Potato Soup
1 medium onion, diced
1 large or 2 small carrots, diced
1 stalk celery, diced
1 1/2 cups brown lentils
4 cups vegetable broth
4 cups water
15-oz can petite-diced fire roasted tomatoes
1 large sweet potato, peeled and cubed (I used a white-fleshed variety)
handful of flat-leaf parsley, chopped
1 bay leaf
1/2 teaspoon fresh thyme (or dried)
1/2 teaspoon dried basil
Freshly ground black pepper to taste
6 cups chopped curly kale (stems removed)
Heat a large Dutch oven over medium-high heat (do not use a nonstick pan!). Add the onion, carrot and celery and cook, stirring, for 5-7 minutes, until vegetables soften and start to brown. Add the rest of the ingredients except kale. Bring to a boil, reduce the heat and simmer, partially covered, for 35-40 minutes, until sweet potatoes and lentils are tender. If the soup is too thick, add a little more broth or water. Season with salt to taste (if you used a salted broth, it should not need any more.) Add kale and cook another 5 minutes. Remove bay leaf and serve.
Serves 4