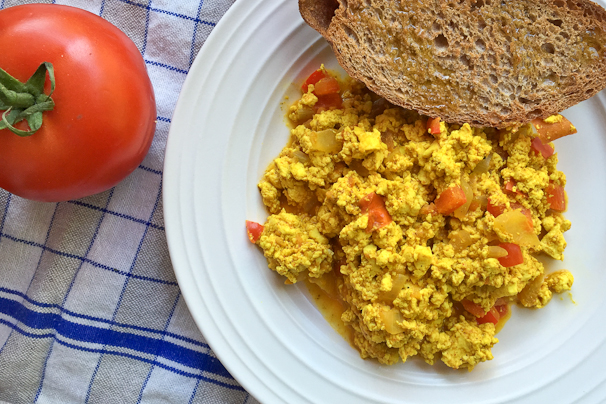 I was never much of a tofu eater – I know all about the health concerns surrounding soy – but since I've gone vegan (OK, 99% vegan), I've let it sneak back into my diet once a week. Now, instead of our old Sunday morning egg ritual, we now have scrambled tofu. I figure eating tofu once a week can't be too harmful – and I've really grown to love this dish.
Mind you, I've had a lot of really bad scrambled tofu in my day, especially dishes that are just cubes of tofu with vegetables and no hint of "scrambling."  So it took me a while to come up with a combination that I liked. My secret ingredient is za'atar, a traditional Middle Eastern spice blend with cumin, sumac, sesame seeds and other spices. It gives the tofu a nice savory bite and nicely offsets the onions, peppers and tomatoes I use.
You can buy Za'atar at Whole Foods and elsewhere, but you can also make your own. The quality of the tofu you use makes a big difference, so choose carefully. If you can find a locally made brand, great. I use Woodstock Farms extra-firm tofu.
I hope you'll make this for your next Sunday breakfast. You can try switching up the vegetables – I've been known to add sauteed kale or zucchini. If you come up with a great variation of your own, please leave a comment!

Print

Scrambled Tofu with Za'atar

2 teaspoons extra-virgin olive oil or high-oleic safflower oil

1 small onion, or half a medium onion, minced

½ medium red bell pepper, diced small

1 medium tomato, diced

14-16 ounces extra-firm tofu (organic and non-GMO), well drained

1 tablespoon low-sodium tamari

3 tablespoons nutritional yeast

1/2 cup water

1 teaspoon za'atar

¾ teaspoon turmeric

½ teaspoon sweet paprika

Freshly ground black pepper to taste

1 tablespoon chopped fresh cilantro (optional)

Heat the oil in a large skillet. Saute the onion and pepper over medium heat for 5 minutes. Add the tomato and cook a couple minutes longer, until the tomato starts to break down. Add the tofu by squeezing the blocks through your fingers into the pan. Add the remaining ingredients except cilantro, raise the heat bring to a boil. Reduce the heat and simmer until the liquid has evaporated. Stir in cilantro and serve.

Serves 2