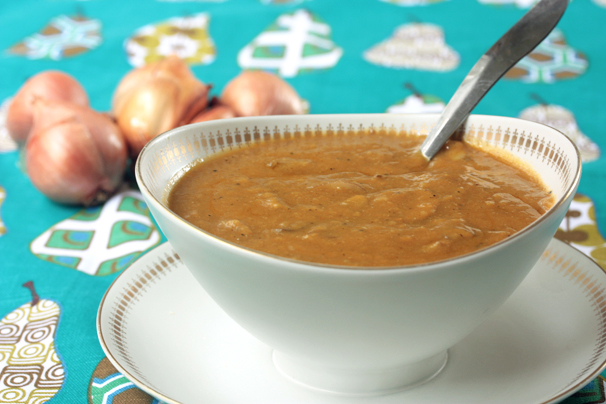 OK, everybody's asking what I'm making for Thanksgiving, so I'm sharing my menu here. Lazy blogger that I am now, I haven't come up with any new and exciting recipes for the holiday this year. But I have quite a delicious spread planned!
It's always a challenge to create my Thanksgiving menu, as it must be both delicious and heart healthy. Don't worry, I don't go so far into the healthy direction that I'm sacrificing flavor – I'm not going to serve steamed broccoli on Thanksgiving. I do try not to go overboard with sweet flavors – my pet peeve about some Thanksgiving menus is that almost every dish includes fruit, sugar or maple syrup (not to mention marshmallows). This year I've found some great recipes that are more on the savory side.
Most of my menu is vegan, but vegans be forewarned: there are a few exceptions, including shrimp and – gasp – a turkey. The people need their turkey, people.
Pickled Shrimp with Satsumas from Food & Wine. This just looks fantastic. I even ordered the Korean chili flakes called for in the recipe (I see kimchee in my future.)
Faux Gras with crackers and crudites.
I know it's a store-bought item, but this stuff is positively addictive.
Sage-Rubbed Turkey with Lemon Bay Gravy from Eating Well
I like that the turkey gets a dry brine, and unlike most recipes, this one doesn't call for rubbing the turkey with butter, or even oil. The lemons sound refreshing, too.
Chickpea Cutlets from Veganomicon / PPK
This is a pretty legendary recipe that I've had my eye on for some time. Many vegan main dishes, like stuffed squash, seem to take the place of other sides, but this one is simply a protein-rich vehicle for gravy. 'Nuff said.
My Vegan Thanksgiving Gravy
I have a lot of vegan gravy recipes running around my little head, but this in the top tier for sure. The pureed roasted shallots and garlic add an unusual twist, if I don't say so myself.
Olive Oil Mashed Potatoes from the New York Times
I don't think people ever notice that my mashed potatoes aren't loaded with butter and cream. Potatoes are great in their own right. Yukon Golds are especially good for this lower-fat treatment.
Sweet Potato Casserole, Gratin-Style from The Healthy Foodie
I think I'm most excited to try this one. It's difficult to find sweet potato recipes that aren't overly sweet. Here, there's just a bit of honey plus onions, mustard and spices to keep things interesting.
Healthy Green Bean Casserole from Veggie Num Num
Trudy from Veggie Num Num made this as a guest post for my blog a few years back, but I've never gotten around to making it. I love the nut-based sauce and the crunchy quinoa flake topping idea, and I'll take fresh onions over those icky canned fried things any day.
Roasted Brussels Sprouts with Pistachios and Cipollini Onions from the New York Times
I would never think of having Thanksgiving without Brussels sprouts. But I'm departing from my usual maple-mustard sauce version to go with a less sweet approach, in an effort to try and cut down the sugar in my holiday feast.
Apple Chestnut Stuffing from Healthy Happy Life
I'm pretty much of a traditionalist when it comes to stuffing, and this one fits the bill. The other one in the same post, Butternut Tangerine Pecan Stuffing, is also calling out to me but I'm worried about pecan overload in the meal. Bonus trivia: did you know that chestnuts are the lowest-fat nut? Now you do.
Clean Eating Cranberry Sauce from The Gracious Pantry
I was looking for a simple, traditional cranberry sauce that was lower in sugar. Bingo, this one looks perfect.
My Apple Cranberry Pie
It will basically be the same recipe as my Apple Raspberry Pie that I link to here, but substituting cranberries (maybe heavier on the apples, since cranberries are so tart.) My healthy-ish pie crust recipe continues to win over even the most hardcore butter crust lovers, so I urge you to give it a try.
Last but not least, my friend Robyn is bringing her famous Squash Pie. The recipe remains a mystery, but I'm very excited to try it.
Happy cooking and Happy Thanksgiving!