Sep 2, 2014
Zucchini noodles with tomatoes, almonds and basil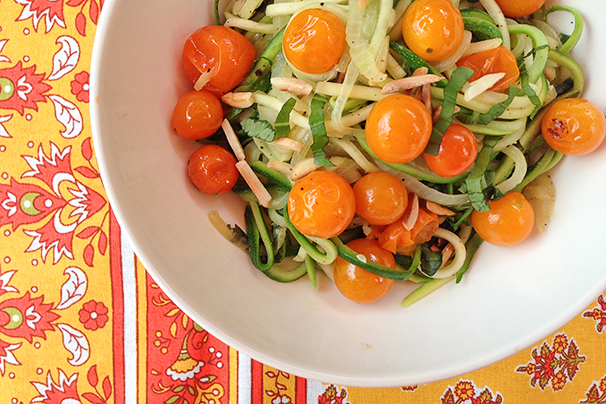 Oh, zucchini noodles, where have you been all my life? Yes, despite the fact that "zoodles" are all over the Internet, I have somehow missed out on them until now. I thought they were only a raw food trend and that didn't interest me much – but turns out you can have your zucchini noodles cooked, too.
To make zucchini noodles, you really should buy a julienne peeler or vegetable spiralizer. With either one, you get perfect spaghetti-shaped zucchini in no time. Of course, zucchini noodles aren't pasta – but the shape that does evoke the experience of eating a plate of spaghetti. Perfect if you're gluten-free – reducing your carb intake, as I am right now.
I based this dish on an old favorite recipe from an old cookbook called The Vegan Gourmet. I think the original had pasta tossed with a sauté of thinly sliced zucchini, onions and roasted red peppers, with white wine and some toasted pine nuts, mint and lemon added at the end.
This time, of course, the zucchini itself stood in for the pasta. I went with almonds instead of pine nuts, cherry tomatoes instead of roasted red peppers, and basil instead of mint. And I used Meyer lemon for its subtle tang.
I've gotta say, my expectations weren't sky-high for this dish, but it's easily my favorite recipe of the year so far. There's something about the crunch of the almonds with the sweetness of the tomatoes and the slightly sour lemon … it's just fantastic.
If you want to cut down the carbohydrates further, use the roasted red peppers in place of the tomatoes. I'm sure it would be equally delicious that way – but sungold tomatoes are growing in my back yard, and I find them irresistible.
If you're a calorie or carb counter, this dish has 255 calories and 27 grams of carbs per serving. I enjoyed every last bite without guilt, and I urge you to do the same. Happy end-of-summer!

Print
Zucchini Noodles with Tomatoes, Almonds and Basil
4 teaspoons extra virgin olive oil, divided
1½ cups small cherry tomatoes (the fresher and sweeter the better)
2 medium zucchini, julienned (see note above)
1 medium yellow onion, halved lengthwise and thinly sliced
2 cloves garlic, minced
2 tablespoons basil chiffonade
2 tablespoons Meyer lemon juice
2 tablespoons slivered (not sliced) almonds, toasted
Salt and freshly ground black pepper to taste
Heat the oven to 400 degrees.
Toss the cherry tomatoes with 1 teaspoon olive oil and place on a rimmed baking sheet. Bake for 10 minutes, or until the tomatoes start to break down a little. Remove to a small bowl and set aside.
Cut the zucchini with a julienne peeler or a spiralizer.
Heat the remaining olive oil in a large skillet. Add the onion and sauté over low heat for 8 minutes, or until starting to brown. Add the garlic and cook a minute more. Raise the heat to medium, add the zucchini and cook for about 5 minutes, gently stirring, until just it's just tender. Turn off the heat and stir in the lemon juice, basil and almonds. Season with salt and pepper to taste. Serve, topping with the roasted cherry tomatoes.
Serves 2