Jun 14, 2014
Vegan strawberry rhubarb crisp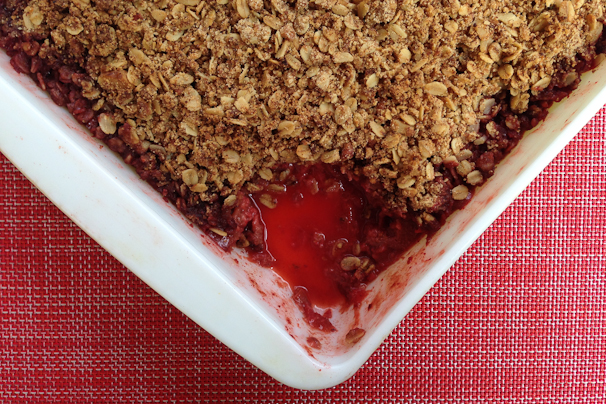 In an attempt to eat less sugar, I recently swore off baking. See how well that worked? But it's strawberry rhubarb season, people! I did use coconut sugar, which is supposedly lower on the glycemic index…so slightly less bad than regular sugar. And I used olive oil rather than butter or "vegan butter" (which I really try to avoid, because of the palm oil and other questionable ingredients.)
But let's get real – this crisp is a treat, not a health food. And what a treat it is. The fruit is just bursting with flavor, especially if you use super fresh strawberries and rhubarb. I got mine from a new farm-to-front door delivery service called Good Eggs. Pricey, but awesome produce and a major convenience.
The crisp topping is nice and nutty. I left it on the less-sweet side since the tart rhubarb requires quite a bit of sugar in the filling. I'm sure you could make the topping gluten-free by using more almond flour in place of the whole wheat flour.
Go ahead and make this indulgent dessert while the fruit's in season. I hereby absolve you of any guilt you might feel!

Print
Vegan Strawberry Rhubarb Crisp
1 pound rhubarb, sliced (3-4 cups)
2 pints strawberries, hulled and quartered
¾ cup coconut sugar, divided
1 cup oats
½ cup almond meal
½ cup white whole wheat flour or whole wheat pastry flour
½ cup chopped pecans
½ teaspoon cinnamon
Good pinch of salt
1/3 cup extra virgin olive oil
1 tablespoon cold water
Heat the oven to 375 degrees.
Place the fruit in a large bowl. Add ½ cup coconut sugar and let sit for 20 minutes.
In another bowl, combine the oats, almond meal, flour, remaining 1/4 cup sugar, pecans, cinnamon and salt. Drizzle on the olive oil and mix with your hands. Add the water and pinch the mixture until crumbly.
Place the fruit in an 8-inch square baking dish. Cover with the topping.
Bake for 40-45 minutes, until bubbling and lightly browned. Cool to room temperature and serve.