Nov 11, 2013
Healthy Thanksgiving Menu Planner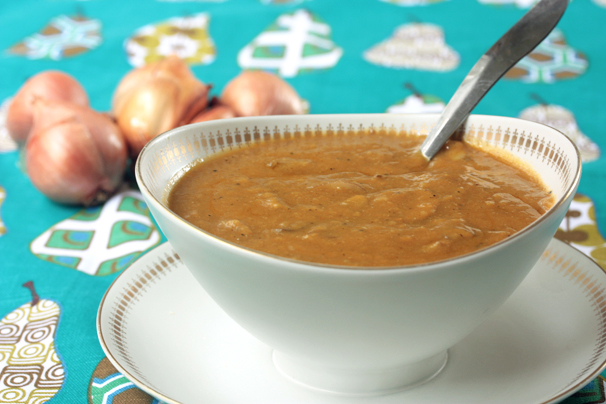 A friend recently confessed to me that he uses four sticks of butter in preparing his Thanksgiving meal. Actually, I have nothing against a splurge, if you eat very well the rest of the year, which he does. So this is not a sermon – I'm adamantly opposed to sacrificing one ounce of flavor for this, my favorite holiday. But I just know you can have a mind-blowing feast without all the butter, cream, bacon and sausage.
So I've searched and searched for Thanksgiving recipes that will wow vegetarians and omnivores alike, while not clogging their arteries. I think even my butter-loving compadre will find that a lot to love here!  In a departure from tradition for this blog, I have included turkey and turkey gravy recipes here. I want as many people as possible to have a heart-healthy holiday, so I'm going the inclusive route. And I've noted whether recipes are vegan and/or gluten-free to make it easy to find what you're looking for.
Use this as your mix & match menu planner. Pick an app, a vegetarian entree or turkey, a few sides, potatoes, stuffing, gravy, cranberry sauce, a dessert and you're done.  Well, you still have to cook it all, but hopefully this will get you started.
The key to planning your menu is choosing carefully. For instance, make sure every dish doesn't contain fruit and nuts (a common Thanksgiving pitfall.) Balance savory with sweet, with a few really bold or unexpected flavors, and you'll have the perfect meal.
Killer Vegan Appetizers
Porcini and Pecan Pâté from Food and Wine. With pecans and dried porcinis, this pâté is an earthy way to start your feast. Serve with toasted whole grain baguette slices. (Vegan, Gluten-free without the bread)
Curried Spaghetti Squash and Chickpea Toasts from Food & Wine. Such an interesting mix of flavors in this app, it's sure to have people talking – with their mouths full. (Vegan)
Beet Muhummara from The Blooming Platter. Just the color alone gives this intriguing spread a wow factor. And the fact that you can make it in a few minutes doesn't hurt, either. (Vegan)
Sriracha-Stuffed 'Shrooms – This recipe is from the awesome new Veggie Lover's Sriracha Cookbook. I mean, Sriracha-laced cashew cheese stuffed in mushrooms, how can you go wrong? (Vegan, Gluten-free)
Olive Oil-Rubbed Turkey 
Roast Turkey with Rosemary and Lemon from Martha Stewart.  A great, simple recipe, with a generous amount of olive oil standing in for the butter. (Gluten-free)
Oranges and Herbs Roast Turkey from A Beautiful Mess. Wow, just look at this picture! The shock of orange will look great on your table, and once again, olive oil only. (Gluten-free)
Fresh Herb and Salt Roasted Turkey from Fine Cooking. This dry-brined turkey is a great argument for simplicity. (Gluten-free)
Vegan Thanksgiving Entrées
Glazed Lentil Apple Walnut Loaf from Oh She Glows. When I served this to some friends a while back, they remarked, "This tastes like Thanksgiving." 'Nuff said. (Vegan)
Seitan Roast Stuffed with Shiitakes and Leeks from Post Punk Kitchen. I'm all for giving vegetarians a hearty dose of protein on Thanksgiving. This recipe fits the bill and is sure to impress. (Vegan)
Maple-Grilled Tempeh from 101 Cookbooks. A simple, flavorful protein to complement all the Thanksgiving sides. And it's just calling out for gravy. (Vegan, Gluten-free)
Gravy You'll Feel Good About
My Vegan Thanksgiving Gravy. This stuff always gets raves from the vegans and the meat-eaters, too. (Vegan)
Apple Cider Turkey Gravy from Eating Well.  The sweetness of the cider with the tang of cider vinegar is perfect.
Pomegranate-Rutabaga Low Fat Turkey Gravy from Clean Cuisine and More. OK, this one is just so strange that I had to include it. Let me know if you try it!
The Best Vegetarian Gravy from Umami Girl. I love how Carolyn writes about gravy here. She provides both a butter and an olive oil option. (Vegan)
Side Dishes Without Butter, Cream or Bacon
Arugula, Orange, Olive and Fennel Salad from Rebecca Gray via The Kitchn. I love the idea of the olives, what a contrast they will provide. (Vegan, Gluten-free)
Green Beans Amandine with Leek Chips from Mollie Katzen. Leek chips – yum. Just leave out the small amount of butter, it will be fine without it. (Vegan without the butter, Gluten-free)
Butternut Squash with Red Onion, Oregano and Mint from Mario Batali, via Food & Wine. This one has the added benefit of being fine served at room temperature, so you can make it ahead. (Vegan, Gluten-free)
My Roasted Brussels Sprouts with Maple-Mustard Glaze. I had to include my Brussels sprouts, because it's the recipe most likely to convert brussels sprout haters! (Vegan, Gluten-free)
Healthy Green Bean Casserole from Vegan Yum Yum. Trudy developed this recipe for my Healthy Thanksgiving Challenge two years ago and it's amazing. (Vegan, Gluten-free)
Roasted Rutabaga with Apple Cider Vinegar from Food Network. This sounds so good, I can't wait to try it on my rutabaga-loving father-in-law. (Vegan, gluten-free)
Pureed Squash and Yams with Citrus from Martha Rose Shulman in The New York Times. I made this last year, and couldn't believe how easy, yet vibrant, it was. (Vegan, gluten-free)
Healthier Stuffing
Rustic Bread Stuffing With Dried Cranberries, Hazelnuts and Oyster Mushrooms. This might be my pick for this Thanksgiving. I will substitute olive oil for the butter, and use a rustic whole grain bread. (Vegan without the butter)
Marcus Samuelsson's Thanksgiving Stuffing. This is truly unusual, with pumpkin, quince and…peanuts. With this much interesting stuff going on, no one will notice it's vegan. I'd probably use a whole wheat bread here rather than white. (Vegan with a vegetable stock substitution)
Butternut Squash, Brussels Sprout and Bread Stuffing with Apples from Food52. This thing has it all. Obviously, if you make this, choose sides other than butternut squash and Brussels sprouts. (Vegan, Gluten-free with a GF bread substitution)
Gluten-Free Apple Pecan Cornbread Stuffing from Sylvana Nardone via the New York Times. I'd substitute fresh sage and thyme for the Italian seasoning, but otherwise this looks awesome. (Gluten-free)
Mashed Potatoes, Only Virtuous
Rosemary Garlic Mashed Potatoes from Big Girls, Small Kitchen. Simply olive oil, rosemary – oh, and an entire head of garlic! (Vegan, Gluten-free)
Mashed Potatoes with Greek Yogurt from Shape.com. Tangy and lemony, these are a delicious departure from ordinary mashed potatoes. Made with nonfat Greek yogurt, of course. (Gluten-free)
Creamy Garlic Mashed Potatoes and Cauliflower from Jeanette's Healthy Living. With both garlic and Greek yogurt, this recipe is like a mash-up (pardon the pun) of the two recipes above. Using cauliflower along with potatoes cuts down the carbs quite a bit. (Gluten-free)
Less-sweet Cranberry Sauces 
Spiced Ginger, Cranberry and Pear Sauce from Pitchfork Diaries. I love, love, love this tart, complex cranberry sauce. (Vegan, gluten-free)
Spiced Cranberry Chutney with Apricots, Cherries and Pecans from Simply Healthy Family. What's interesting about this one is that it's sweetened only with fruit and fruit juice. (Vegan, gluten-free)
Cranberry Orange Relish from Eating Well. With only 1/4 cup of sugar, this is about the least sweetened cranberry recipe you'll find. The ginger is a nice touch. (Vegan, gluten-free)
Hibiscus Cranberry Sauce from Love and Olive Oil. I was so excited to find this recipe, because hibiscus is one of my favorite things. Plus it's got lime juice and very little sugar. Yippee! (Vegan, gluten-free)
Traditional Desserts Made Healthy
You Won't Believe It's Vegan Pumpkin Pie from Food52. Wow, this recipe looks so much better than the vegan pumpkin pie recipes with tofu. Cashews are a great idea. (Vegan)
Chocolate Tofu Pudding from Vegetarian Times. Chocolate, on Thanksgiving? Hell, yeah!  I like that this recipe includes dark chocolate rather than just cocoa powder – that gives it a nice richness. (Vegan, Gluten-free)
Cranberry Upside Down Cake from This Can't Be Vegan. While pie is more traditional, no one's going to turn down this delicious, fruity cake. (Vegan)
My Apple Raspberry Pie. Raspberries are an unexpected touch for Thanksgiving, but the apples hold up the traditional end. Plus, the crust is so good, no one will believe there's no butter or shortening in it. (Vegan)
Cranberry and Pear Tart from My New Roots. I've already made the oat and pecan crust from this recipe, to great accolades. Next time I'll make the whole thing (although I will find a substitute for brown rice syrup, as it has been shown to be high in arsenic.) (Vegan, Gluten-free)
Happy Thanksgiving and happy eating,
Cathy