Mar 11, 2013
Irish soda bread with wild blueberries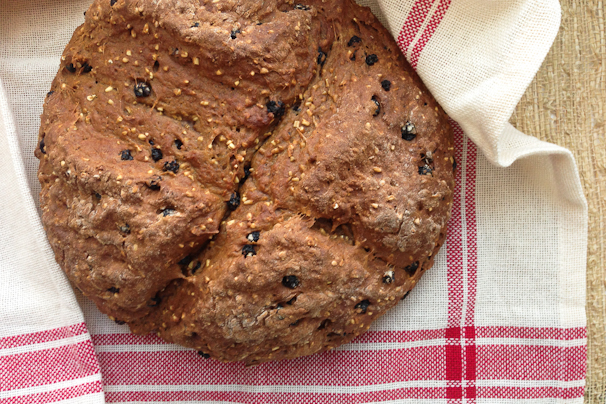 The hint of spring we experienced this weekend made me look forward to the summer ahead, and our annual trip to Downeast Maine. And from there it wasn't a big jump for me to think about baking something with blueberries. However, I'm seriously cutting back on sweets – so my usual muffins were out. It had to be something a bit more on the savory side.
So with St. Patrick's Day coming up, I thought I'd try a riff on my whole-grain Irish soda bread. I stepped away from tradition with the addition of dried Maine blueberries and olive oil. I also used a combination of Greek yogurt and skim milk instead of the usual buttermilk. Worked like a charm, and added protein to boot.
Best of all, this bread is chock full of whole grains including steel-cut oats and toasted wheat germ. And there's very little sugar – so enjoy it without guilt.

Print
Irish Soda Bread with Wild Blueberries

3 1/4 cups white whole wheat flour
¾ cup steel-cut oats
¼ cup toasted wheat germ
1 1/2 tsp. baking soda
1 t. baking powder
1 tsp. salt
1 cup nonfat greek yogurt
1 cup fat-free milk
1 tablespoon extra virgin olive oil
2 teaspoons molasses (I used blackstrap)
1 tablespoon sugar
¾ cup dried wild blueberries
Heat the oven to 375 degrees.
Mix the flour, oats, wehat germ, baking soda, baking powder and salt in a large bowl.
In a separate bowl, whisk the yogurt, milk, olive oil, molasses and sugar. Stir into the dry mixture along with the blueberries, mixing only until the dough just comes together. Transfer to a floured surface and gently form into a round loaf.
Place on a lightly greased cast iron skillet or baking sheet (if you use a skillet, the loaf shouldn't be quite as large as the pan.) Score a deep X in the top of the dough. Bake for 40-45 minutes, or until the loaf sounds hollow when you tap the bottom. Cool before slicing.