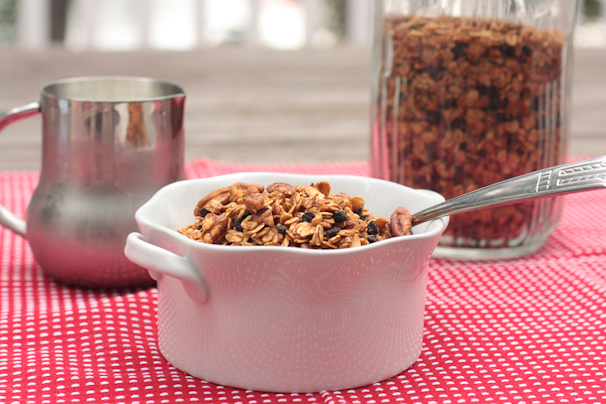 I've always had mixed feelings about granola. I love it to death, but there are some definite nutrition issues to consider, whether you're making it or buying it.
A friend of mine recently made the famed Madison Square Park granola. It tasted great – but of course it did, with nearly a cup of sweetener in a granola with just 2¾ cups of oats! Similarly, Melissa Clark's recipe includes 1¼ cups of sweetener. Granolas like this are delicious, but hardly the ultimate healthy breakfast.
Many granolas are also loaded with seeds, which have a very high level of Omega-6 fatty acids, which promote inflammation. (I try to limit excess Omega-6 consumption, and boost Omega-3 fatty acids to compensate.) And when it comes to commercially-made granola, many contain "vegetable oil", which probably means highly-processed soybean oil, not the heart-healthiest choice.
Another common granola ingredient is coconut, which I avoid because of the high saturated fat content. Yes, I know a lot of people believe coconut is heart-healthy, but I'm not convinced – and as someone with serious heart problems, I have to be extra cautious.
So what's a health-conscious granola lover to do? 
The first thing I did when concocting my granola was to cut down the added sugar from the typical recipe. Of course, I didn't cut out the sugar altogether, as that would make for a granola no one wants to eat. I used a little each of maple syrup, applesauce and coconut palm sugar, which is said to have a lower glycemic index level (not sure how much stock to put in the health claims, but I love the taste.)  Don't worry, you won't miss the heavy sweetness, especially if you spice up the granola up with a hefty dose of cinnamon, along with cardamom and fresh orange zest.
I included nuts, but ditched the usual pumpkin and sunflower seeds, which are higher in Omega-6.  I didn't include any coconut. And I used extra-virgin olive oil, which is an unprocessed oil that's high in heart-healthy monounsaturated fat.
Is my granola health food? That's debatable, as it does contain added sugar. But for me, this is a granola with the right balance of health and deliciousness. Now I just need to stop myself from eating it in huge quantities!
Heart-Healthy Granola
5 cups rolled oats, preferably thick-cut (if you're gluten-sensitive, be sure to use oats marked gluten-free)
1 cup whole raw almonds
1/3 cup roughly chopped pecans or walnuts
4 teaspoons cinnamon
1 teaspoon salt
1/4 teaspoon ground cardamom
2/3 cup unsweetened applesauce
1/3 cup extra virgin olive oil
1/4 c maple syrup
1/4 cup coconut palm sugar (or increase maple syrup to ½ cup)
Zest of one organic orange
2 teaspoons vanilla paste, or 1 tablespoon vanilla extract
1 cup dried fruit of choice (raisins, cranberries, etc.)
Heat the oven to 275 degrees.
Combine the oats, nuts, cinnamon, salt and cardamom in a large bowl.  In another bowl, whisk the applesauce, olive oil, sweeteners, ginger or orange zest and vanilla.
Combine the two mixtures, then spread on a large rimmed baking sheet.
Bake for about 45 minutes, stirring once or twice. Add the dried fruit.  Cool, then place in an airtight container for storage.