Apr 30, 2012
Kale salad with apricots and almonds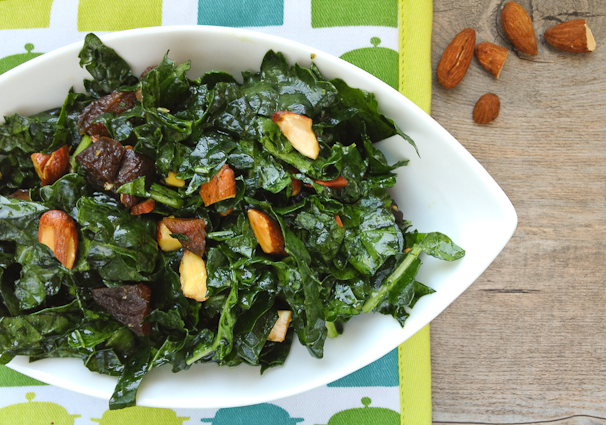 I'm always amazed at how divisive kale is. People either say they love it more than any other food, or they can't stand it.  However, I find that those who say they hate it really haven't eaten it more than once or twice – and they probably haven't had it prepared in an interesting way.
Today I made a kale salad that's sweet, salty, chewy and crunchy. I used tamari almonds and dried apricots, but there are endless variations on this dried fruit-and-nut theme. Sliced almonds and cranberries, pistachios and cherries, pine nuts and golden raisins, etc.  They're all great.  And if you're a cheese eater, a little shaved parmigiano-reggiano on top would be delicious.
This salad could just be the thing to create "kale converts." Try it out on a kale hater you love!

Print

Kale Salad with Apricots and Almonds

1 bunch lacinato (Tuscan) kale
2 tablespoons extra virgin olive oil
1 tablespoon fresh lemon juice
1 teaspoon maple syrup or agave
¼ cup tamari almonds, roughly chopped (for gluten-free, make your own with wheat-free tamari)
8 organic unsulphered dried apricots, diced
Pinch coarse sea salt
Pinch dried red pepper flakes or Aleppo pepper
Freshly ground black pepper to taste

Wash the kale, then stem: grab the end of a stem in one hand, then use your other hand to tear off the leaf by pulling your fingers along the stem.

Slice all the kale very thinly and place in a large bowl. Add the remaining ingredients and gently massage for about 30 seconds.

Keeps for one day.

Serves 4