Dec 10, 2011
Mint Chocolate Thins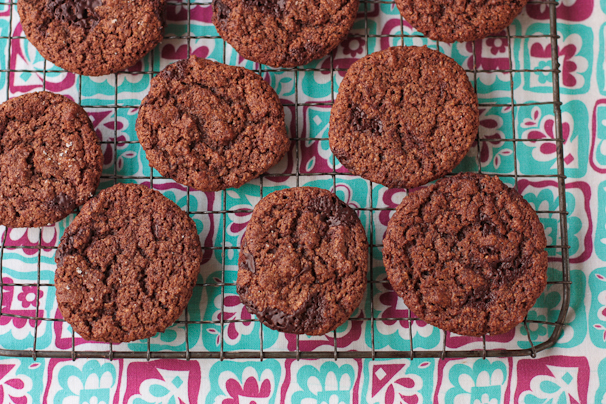 I was eyeing the Chocolate Mint Melties from Dreena Burton's Eat, Drink & Be Vegan, and simply couldn't resist making them.
I played around with the proportions of the original recipe a bit, and changed the flour from spelt to whole wheat pastry flour. The resulting cookie is thin and crispy, while still chewy on the inside. With an intense minty aroma, they're the perfect holiday cookies.
I think these are best the same day they are made, as they tend to lose their crispness over time. So I bake up cookies with part of the batter, then refrigerate the rest for the next day. That also keeps me from eating so many in one sitting!
These will remind you of Girl Scout Thin Mints…minus the icky trans fats. Admittedly, they are super sweet. But they're also whole grain and vegan. So go ahead, indulge!

Print
Mint Chocolate Thins
Adapted from Eat, Drink & Be Vegan
1/2 cup organic canola oil or high-oleic safflower oil
1/2 cup + 1 tablespoon organic sugar, divided
1/2 cup maple syrup
1/4 cup agave nectar
1 T. almond milk (can substitute dairy milk)
2 teaspoons peppermint extract
1 teaspoon vanilla extract
2 cups whole wheat pastry flour
1/2 cup unsweetened cocoa powder
Rounded ¼ teaspoon salt
1 teaspoon baking soda
1 teaspoon baking powder
3.5 ounces 70% or 72% dark chocolate, chopped into small chunks
Heat the oven to 350 degrees.
Whisk together the oil, ½ cup sugar, maple syrup, agave, milk and extracts.  In another bowl, combine the dry ingredients and mix well. Add the wet ingredients into the dry and stir just until combined. Gently mix in the dark chocolate.
Drop by rounded teaspoonful onto a baking sheet lined with parchment paper. Sprinkle with a little of the additional sugar. Bake 11 minutes (don't worry if they don't look done – they flatten and harden after coming out of the oven). Cool for 2-3 minutes, then transfer to a rack.
Makes about 3 dozen cookies
This post is linked to The Secret Recipe Club's Cookie Party.