Nov 30, 2011
Black-Eyed Pea and Barley Stew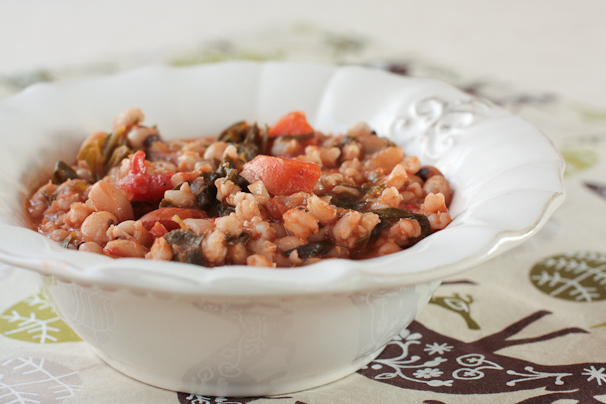 I had a bit of barley and a few black-eyed peas in the pantry that I didn't want to go to waste. So I picked up some kale and carrots, and put together this hearty, warming stew.
When I made up this recipe on the fly, I thought it would be good, but kind of plain, similar to Hoppin' John. I didn't anticipate how amazing the chewy texture of the barley was with the creamy black-eyed peas. It's really a killer combination, and it makes me wonder why I don't eat barley much more often. I used Umbrian barley, and I think it was especially good. But any pearled barley will be fine here.
Black-eyed peas and barley are nutritious on their own, but the addition of kale makes this dish into a nutritional superstar. You really can't pack much more fiber and vitamins into one bowl.
I can't think of anything more satisfying and comforting for a chilly night. Or lunch at your desk, for that matter.

Print
Black-Eyed Pea, Kale and Barley Stew
1 tablespoon extra virgin olive oil
2 cloves garlic, minced
1 medium onion, chopped
1 carrot, chopped
1 bunch kale, stemmed and chopped (about 4 cups, packed)
1 cup pearled barley
1 cup dried black eyed peas, rinsed
4 cups vegetable stock
14-ounce can diced tomatoes, preferably small dice (I used Bionaturae)
4 cups water
½ teaspoon freshly ground black pepper
Salt, to taste
Heat the olive oil in a medium pot. Sauté the garlic, onion and carrot for 10 minutes. Add the kale and sauté another 5 minutes. Add the remaining ingredients, except salt. Bring to a boil, then reduce heat and simmer, partially covered, until the black-eyed peas and barley are both tender, about 1 hour.  Season with salt to taste (it may not be necessary if your stock was salted.)
Serves 4