Oct 10, 2011
Escarole and white bean soup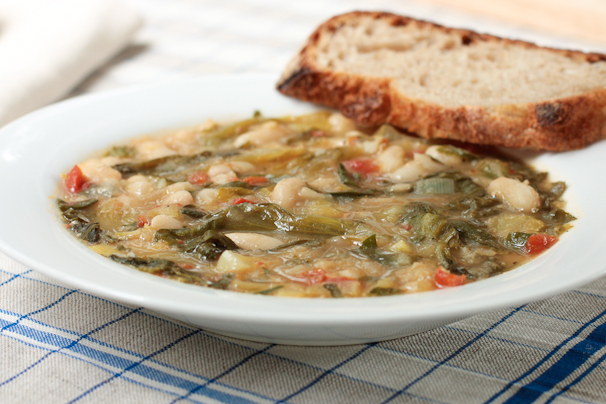 I was in a panic because the escarole plants in my garden were so ready to eat, and I hadn't planned out a recipe. I made up this Escarole and White Bean Soup with what I had on hand, and inadvertently created what might just be my ultimate comfort soup! It's proof that escarole is one of the most under-appreciated greens out there.
With a short list of ingredients, this soup sounds so humble – but it's remarkably satisfying. The leeks and celery really gave it a lovely depth of flavor. The just-picked basil and parsley from the garden didn't hurt, either.
Be sure to serve this soup with some crusty bread. You'll want to do lots of dipping.

Print
White Bean and Escarole Soup
12 ounce dried cannellini beans, picked over and rinsed
2 tablespoons extra-virgin olive oil
4 or 5 cloves garlic, minced
2 medium stalks celery, very thinly sliced, plus any leaves from the head of celery
3 leeks, white and light green part thinly sliced (about 3 cups)
Pinch of red pepper flakes
2 large heads escarole, well-washed and chopped
4 cups vegetable stock (recommend Imagine No-Chicken broth)
1 15-oz can tomatoes, with juice (not puree), well chopped (or use Eden brand diced tomatoes, which are already finely chopped)
½ teaspoon freshly ground black pepper
3 tablespoons chopped fresh basil (optional)
2 tablespoons chopped flat-leaf parsley (optional)
Soak the beans overnight, or use the quick soak method. Drain. Place the beans in a large pot with water to cover by two inches. Bring to a boil, then reduce heat to a simmer and cook until beans are completely tender, about 45 to 75 minutes depending on the freshness of your beans.  If you're not using them immediately, let the beans cool in the cooking liquid.  If you are using them now, drain and reserve the liquid.
Heat the olive oil over medium heat in a large heavy pot or dutch oven. Add the garlic, celery, leeks and red pepper flakes. Sauté for 10 minutes.
Add the escarole and cook for one minute, until it wilts. Add the beans, stock, tomatoes, pepper, and 2 cups of reserved bean cooking liquid. Bring to a boil, then reduce heat and simmer for 30 minutes. Add the basil and parsley (if using) and serve.
Serves 8