Jun 28, 2011
Potato salad with snap peas and yogurt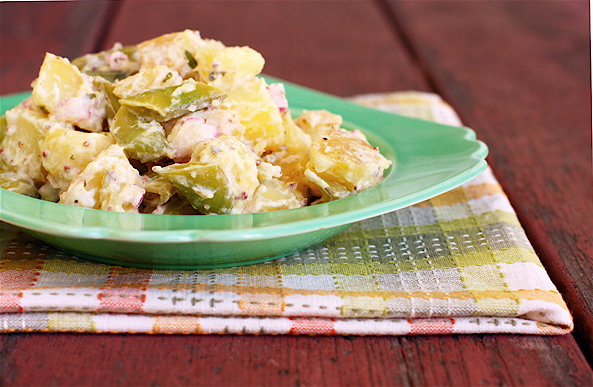 I've made plenty of potato salads with vinaigrettes, but for an occasion like the 4th of July, I like to go back to a more traditional American style. Alas, mayo is not the heart-healthiest of foods, so I substituted Greek yogurt and olive oil. I got the idea of a yogurt dressing from this New York Times recipe, which was good but not all that exciting. I jazzed it up with lemon, coarse-ground mustard, pickle relish and onions. The result was as American as, well, potato salad!
Of course, if I'd wanted to be truly traditional I would have used celery, but some just-picked snap peas came into my possession, so I just had to use them. And it was a good thing, because hey added the perfect amount of crunch and color, as well as a slight sweetness.
Another thing that took this salad to the "fantastic" level was a tart garlic-dill relish from McClure's. You could use regular old pickle relish, but this relish is fantastic – and not at all sweet like the grocery store variety. I didn't use a lot of it, but you could really taste the pickle-ness in every bite.
Hope you try this healthy potato salad on the 4th – it's sure to set off some flavor fireworks in your mouth.
Potato Salad with Snap Peas and Yogurt
2 pounds Yukon Gold or red potatoes, scrubbed and cubed
1 pint sugar snap peas
1/3 cup nonfat Greek yogurt
1 tablespoon light eggless canola mayonnaise (Spectrum makes this)
1/4 cup extra virgin olive oil
1 tablespoon coarse-grain dijon mustard
1 heaping tablespoon pickle relish (see above)
3 tablespoons lemon juice
1/3 cup minced red onion
1 tablespoon chopped flat-leaf parsley
1/4 teaspoon salt
1/4 teaspoon black pepper
In a large bowl, whisk together the yogurt, mayo, olive oil, mustard, relish, lemon juice, onion, parsley, salt and pepper.
Bring a pot of water to a boil. Pull the string down the length of the snap peas. add them to the boiling water and blanch for about 1 1/2 minutes. Remove using a slotted spoon, and immediately plunge into a bowl of ice water. Let sit until they are completely cold, then drain well. Chop into 1/2-inch pieces and set aside.
Add the potatoes to the boiling water and cook until just tender, about 12-14 minutes. Drain. Add the potatoes and snap peas to the dressing and gently stir. Adjust salt to taste. Serve at room temperature or refrigerate for later use.
Serves 8-10