May 31, 2011
Mango BBQ Beans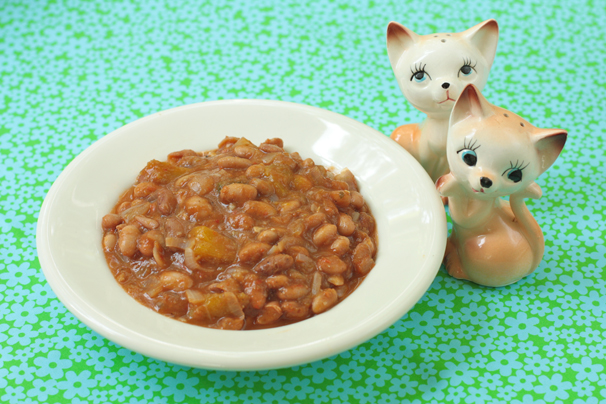 When I saw this Mango BBQ Beans recipe on The Taste Space blog recently, I was intrigued … but also a little hesitant to make them, because the beans were cooked on the stovetop rather than baked. After all, I'm a traditional baked bean kinda gal. But I fell in love with the flavor of these tangy, mango-y beans.
I made a few changes to the recipe, which originally appeared in the Appetite for Reduction
cookbook, including:
– Pinto beans instead of kidney beans, because the soft texture of pintos is better here.
– Bean cooking liquid instead of vegetable broth, because why waste delicious bean liquid?
– Less than half the amount of liquid smoke, because it can be overpowering, and because this product freaks my friend Francine out!
The result was slightly sweet and smoky, and absolutely delicious. Next time will probably go all the way and bake them at 300 degrees for an hour or two instead of simmering on the stovetop. But that will simply be guilding the lily (or the beans, as the case may be.)
These beans go well on a traditional barbecue menu, but would also make a nice dinner when served with something simple like brown rice and braised collard greens, or maybe some quinoa-corn cakes. I'll have to get creative with my menu planning this week, because even though these beans were a huge hit at my Memorial Day party, I have loads of leftovers!
One ingredient note – I had to send two friends on a hunt for Aleppo chili pepper flakes, but it was worth it. We were putting them on everything this weekend. They went in the potato salad, on bread & cheese, etc. They have an intriguing, slightly smoky flavor that's different than regular crushed red pepper. So do hunt some down for yourself.
Photo prop fun: Eagle-eyed readers of this blog will notice that I've featured these salt & pepper shakers once before. But I just can't get enough of these kitties. Can you?
Mango BBQ Beans
3/4 pound dried pinto beans (1 1/2 cups)
1 tablespoon olive oil
1 yellow onion, chopped
4 cloves garlic, minced
1 1/4 cups chopped fresh ripe mango
1 cup canned tomato sauce
1 cup bean cooking liquid
1/2 teaspoon Aleppo chili flakes
1/4 teaspoon ground allspice
1 teaspoon freshly ground coriander
1/2 teaspoon liquid smoke
1 tablespoon agave nectar
Salt and pepper, to taste
Place the beans in a large bowl of cold water and soak overnight. Drain, return to the pot and cover with cold water by 1-2 inches. Bring to a boil, skim off any foam, then reduce heat and simmer until tender. This may take anywhere from 45 to 90 minutes, depending on the freshness of your beans. Drain, reserving 1 cup of cooking liquid.
Heat the oil in a large pot over medium heat. Saute the onion and garlic in the oil for about 5 minutes, until the onions are translucent.
Add the mango, tomato sauce, bean cooking liquid, pepper flakes, allspice, coriander, beans and salt. Bring to a boil, then lower the heat and simmer, partially covered, for 45 minutes, stirring occasionally.
Remove off the heat and stir in the agave nectar and liquid smoke. Add more salt to taste, and serve.
Serves 6.