Apr 3, 2011
Sweet potato, apple and lentil soup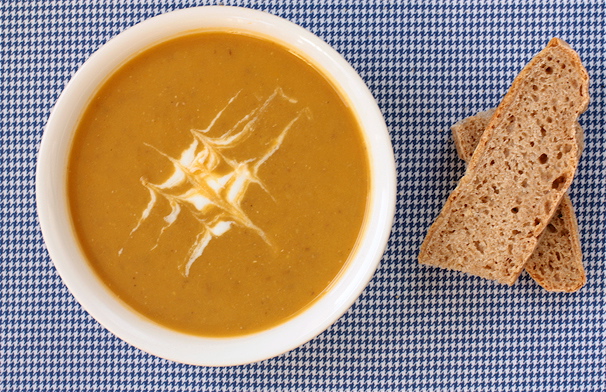 I love root vegetable soups, but sometimes I feel like every soup with butternut squash or sweet potatoes tastes the same, with the sweetness of the vegetables being the dominant flavor. This time I wanted to make a more memorable soup, so I combined sweet potatoes with tart apples, leeks and lentils. I have to say, the result was crazy good.
The combination of sweet potatoes and apples is a natural, and using tart apples helps to ensure that the soup isn't cloyingly sweet. Lentils add a a subtle yet mysterious heartiness. (None of my dinner guests could guess that there were lentils in the soup!) And of course, this is a super nutritious dish, with the vitamins from the vegetables, protein from the lentils, and fiber from all of them.
Do let me know if you try this. It's easy to make and a guaranteed winner.
This is my contribution to Souper Sundays, hosted by Kahakai Kitchen
Sweet Potato, Apple and Lentil Soup
2 tablespoons olive oil
2 cloves garlic, minced
2 large leeks, white and light green parts chopped
2 tart apples, peeled cored and chopped
2 medium sweet potatoes, peeled and chopped
2 teaspoons minced fresh ginger
1 teaspoon ground cumin
1 teaspoon ground coriander
¼ teaspoon cayenne pepper
¾ cup brown lentils
4 cups vegetable stock (recommend Imagine's No-Chicken Broth)
3 cups water
½ teaspoon freshly ground black pepper
½ teaspoon salt, or to taste
Nonfat plain yogurt or soy yogurt for topping, optional
Heat the olive oil over medium heat in a large pot. Add the leeks, ginger and garlic, and sauté for 5 minutes. Add the apples, sweet potatoes and spices and cook for 2 minutes, stirring constantly. Add the lentils, vegetable stock and water. Bring to a boil, then reduce heat and simmer for 40 minutes, partially covered. Season with salt and pepper to taste. Puree in a blender (or use an immersion blender). Reheat, if necessary, and serve.
Serves 6