Mar 10, 2011
Cashew roasted garlic spread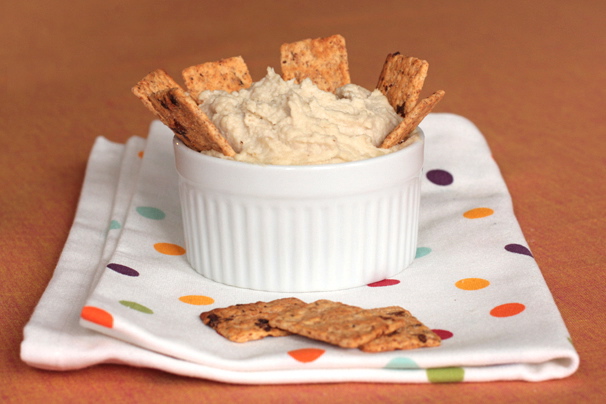 This recipe was the winner in this week's Kitchen Challenge over on Salon. It also won a cooking throwdown at my office. Woohoo!
Being an almost-vegan, the idea of vegan cheese should appeal to me, but to be honest, I think it's silly. I've had nut cheeses made from cashews, and they tend to be bland and tasteless. The main flavor tends to come from the nutritional yeast that's often used. Sorry, but if I want cheese, I'll break my cardiologist-ordered diet and eat a bite or two of English farmhouse cheddar.
Having said that, I took one cue from the vegan cheeseheads in developing my rich and creamy Italian cashew spread: I soaked the cashews overnight to make them soft. But rather than going for a thick, cheese-like texture, I created a spread that's more reminiscent of a white bean dip. The hefty dose of roasted garlic, along with lemon and olive oil, put it in a whole different league than faux cheese.
This would be good served on whole grain bread, garlic crostini, or even cucumber slices. If you have it on crackers, be sure they don't have a strong flavor or the crackers will overwhelm the lovely roasted garlic taste.
Cashew Roasted Garlic Spread
2 cups raw cashews
1 whole head garlic
1 tablespoon + 1 teaspoon extra virgin olive oil
2 tablespoons lemon juice
5 tablespoons water
1/2 teaspoon salt
1/4 teaspoon freshly ground black pepper
Soak the cashews in a large bowl of cold water for 6 hours or overnight, then drain.
Preheat the oven to 400. Peel off the outer papery skin of the garlic head. Slice along the top of the bulb to reveal a bit of the cloves. Place in a baking pan, drizzle with a teaspoon of olive oil. Cover with foil and bake for 40 minutes.
Place the drained cashews in a food processor. Add the roasted garlic, squeezing out the contents of each clove. Add the remaining ingredients and process until very smooth.
Like this recipe? Make it, share it, tweet it, comment on it!