Feb 22, 2011
Vegetarian Cornish Pasties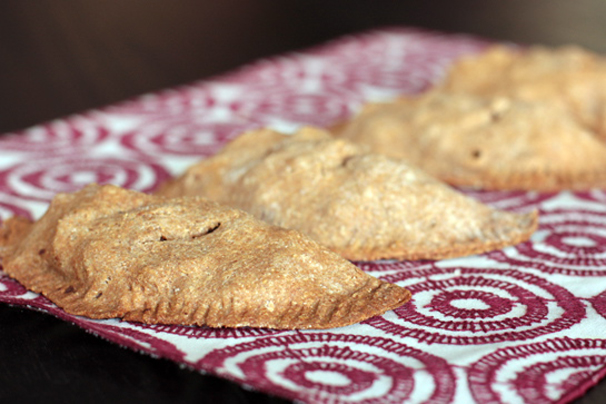 When my friend Tracy returns to Michigan's Upper Peninsula, she often comes back talking about pasties. These hand pies are usually filled with ground beef, onions, carrots, potatoes and rutabaga – you've gotta have the rutabaga – and are sometimes served with gravy (though there is an ongoing battle between the gravy and no-gravy contingents.)
To make a heart-healthy pasty, I substituted seitan for the beef, added some additional seasonings for an umami factor, and used a vegan whole wheat pastry dough. Voila– vegan pasties!  Because I was taking them over to Tracy's for dinner, I knew she'd want gravy, so I whipped up some using some amazing barley miso as a basis. They might not eat pasties like these in Cornwall, or even in Michigan, but here in Brooklyn, they rocked the house.
Expect me to go a little crazy with hand pies in the next few months, because this recipe has opened the floodgates. I'm already planning a butternut squash and kale variety, and perhaps a curried lentil one.  Suggestions are welcome….
Vegetarian Cornish Pasties
Filling:
2 tablespoons olive oil
1 medium onion, diced
1 medium rutabaga, diced (about 1 ½ cups)
1 large or 2 small carrots, diced
1 large Yukon gold potato, peeled and diced
1 8-ounce package seitan, rinsed, drained and minced
2/3 cup frozen peas
1 teaspoon dried thyme
1-2 teaspoons miso (I used South River Miso's Three-Year Barley Miso)
2 teaspoons nutritional yeast (optional but recommended)
2 teaspoons tamari
½ cup water
½ teaspoon salt
½ teaspoon freshly ground black pepper
Heat the oil in a large pot or skillet over medium heat, then add all of the vegetables and sauté for 6-7 minutes. If using the nutritional yeast, add during the last two minutes of sauteing time.
Add the peas, thyme, miso, tamari, water salt and pepper. Cover and cook on medium-low heat for 10 minutes longer, or until all of the vegetables are tender. Stir in the seitan. Taste for salt and adjust if you see fit.
Dough:
3 ½ cups whole wheat pastry flour
½ cup organic canola or high-oleic safflower oil
1 ½ teaspoons salt
6 tablespoons water
6 tablespoons soy milk
Mix the flour and salt in a bowl. Drizzle oil on top, then work in with your fingers until the mixture is crumbly.  Add water and soy milk and mix with a fork. Divide the dough into 12 balls.
Roll out each ball on a floured surface (use all-purpose flour for this), to a diameter of just over 6 inches.  Invert a 6-inch bowl over the dough and use it to create a perfect circle, cutting around the bowl with a knife. (Reserve the excess dough for repairing tears if necessary.) Use a metal spatula to loosen and lift the dough, and place it on a lightly oiled baking sheet.
Assembly:
Heat the oven to 400 degrees.
Scoop about 1/3 cup of filling onto one side of the circle. Dampen the outer edges with water, then fold the dough over the filling. Use a fork to crimp the edge. Repeat with the other balls of dough. Cut several slits in the top of each pasty.
Bake for 30 minutes. Serve with gravy, if desired.
Serves 6
Bonus recipe:
Miso Guinness Gravy (adapted from The Second Seasonal Political Palate)
1/3 c. canola or high-oleic safflower oil
1 small onion, minced
3 mushrooms, minced
1 clove garlic, minced
1/3 cup nutritional yeast
1/3 cup whole wheat flour
1 cup Guinness beer
1 ½ cups water
½ teaspoon dried thyme
2 teaspoons tomato paste
1 teaspoon honey
1 tablespoon balsamic vinegar
1 bay leaf
3 tablespoons low-sodium tamari or soy sauce
2 tablespoons red or brown miso (see above for my recommendation)
¼  teaspoon black pepper
Heat the oil in a saucepan over medium heat. Sauté the onion, mushrooms and garlic for about 5 minutes. Lower the heat slightly, add the flour and yeast, and cook for about 8 minutes, stirring constantly. Add the remaining ingredients, whisking well. Simmer for about 15 minutes, adding water or stock if the gravy becomes too thick.
If you like this recipe,  please "Like" it, Tweet it or share it. Thanks!