Feb 3, 2011
Pomegranate balsamic roasted vegetables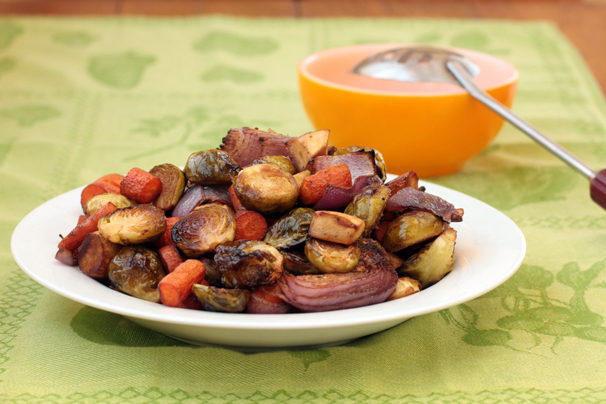 I recently received a gift of some pomegranate balsamic vinegar (thanks, Pam!) from the Filling Station in New York's Chelsea Market. I knew immediately what I wanted to do with it.
I had a stash of root vegetables, and roasted them up with the pomegranate balsamic and some extra virgin olive oil. The vinegar caramelizes in the hot oven, and has just the right sweet-tart quality. I hate to use the word "yum", but … yum!
Pomegranate balsamic vinegar might sound like an exotic ingredient, but you can get it right on Amazon
. It's well worth tracking down, and I'm sure you'll find loads of uses for it. It's perfect for salad dressings, but would also be good drizzled on braised greens or a bowl of lentil soup. Me, I could practically drink the stuff right from the bottle.
Recipe Note: the vegetable combination I've suggested here is terrific, but feel free to change it up. Cauliflower and sweet potatoes would be my top alternate contenders.
Pomegranate Balsamic Roasted Vegetables
1 large red onion, cut into chunks
3 carrots, cut into 1-inch lengths (or half moons if the carrot is very thick)
2 parsnips, peeled and cut into 1-inch lengths
10 ounces brussels sprouts, trimmed and halved
4 cloves garlic, peeled
2 tablespoons extra virgin olive oil
3 tablespoons pomegranate balsamic vinegar (or substitute fig or regular balsamic)
Salt and pepper to taste
Heat the oven to 400 degrees.
In a large bowl, toss the vegetables with the oil and vinegar. Spread on two rimmed baking sheets. Sprinkle with salt and pepper.Roast for 30-40 minutes, until nicely browned and tender to your liking.
Serves 4
If you like this recipe, please click the "Like" or "Tweet" button below. Thanks!