Dec 28, 2010
Heart-loving Holiday Recipe: butternut squash hummus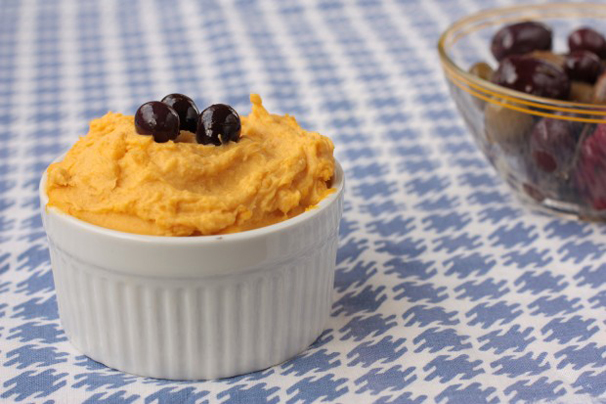 If you're getting ready for a New Year's Eve bash, this butternut squash hummus is a nice alternative to the usual dips. I had seen recipes for hummus that called for both chickpeas and butternut squash – but when I was making this batch, I stopped and tasted it before adding the chickpeas and decided it was perfect as is.  You'd think this would be super sweet, but it's actually surprisingly hummus-like, thanks to the garlic, tahini and lemon. And of course, you can feel good about eating it because butternut squash is rich in fiber, antioxidants and other good stuff. This is delicious with pita chips or spread on baguette slices. You'll have fun making people guess what the secret ingredient is!
Smoky Southwestern variation: substitute lime juice for the lemon, use one small chipotle pepper from a can of chipotles in adobo in place of the cayenne pepper, and stir in two tablespoons of chopped cilantro at the end.
Butternut Squash Hummus
1 small butternut squash, halved, seeds scooped out
1/4 cup tahini
3 cloves garlic
2 tablespoons lemon juice
1/2 teaspoon ground cumin
1/4 teaspoon ground coriander
1/8 teaspoon cayenne pepper (optional)
1/2 teaspoon salt
1 tablespoon olive oil
Preheat the oven to 400 degrees. Brush the squash with oil and place on a baking sheet, cut side down. Roast for about an hour, until the squash is very tender.  Scoop out the flesh and place in a food processor along with the remaining ingredients.